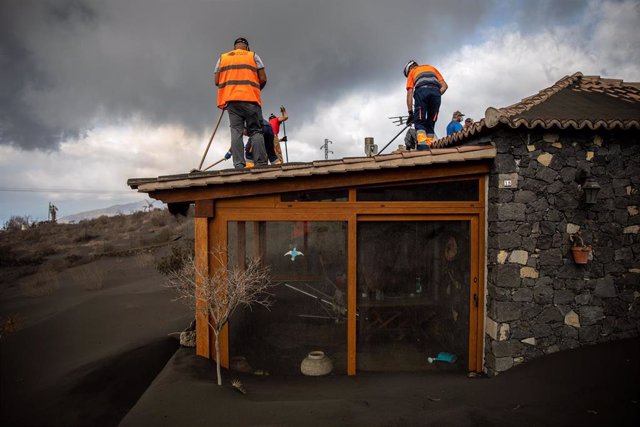 Several volunteers work to remove ashes from the roofs of several houses near the Cumbre Vieja volcano, on November 5, 2021, in La Palma, Canary Islands (Spain). These volunteers remove from the roofs of the houses and their surroundings the meters d – Kike Rincón – Europa Press
SANTA CRUZ DE TENERIFE, 15 Nov. (EUROPA PRESS) –
The preliminary autopsy on the body of the 72-year-old man who died last Friday while collecting ash in the exclusion zone on the island of La Palma does not allow an accurate diagnosis of the cause of death.
According to sources from the Superior Court of Justice of the Canary Islands (TSJC), it is necessary to wait for the analytics, which will take several days, as has been transferred by the Court of First Instance and Instruction number 1 of Los Llanos de Aridane.
The lifeless body of this El Paso neighbor was found on Saturday morning in a house located in the El Corazoncillo neighborhood, in the same town. Since then, the Judicial Police of the Civil Guard has been investigating the causes of death.
This person had accessed the exclusion zone in a team of neighbors authorized to carry out the ash cleaning work, under the direction of the El Paso City Council and under the conditions and according to the protocols that Pevolca has established for these actions.