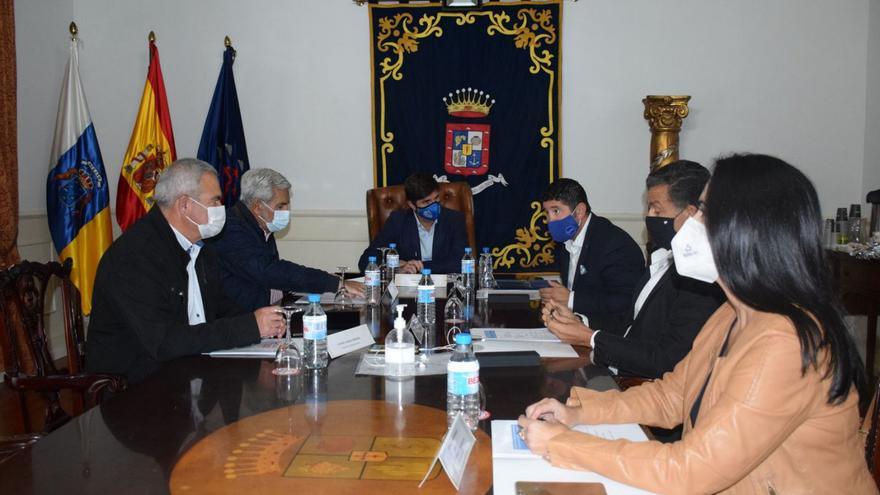 The four councilors form the commission in charge of pressing the state of the region with business and union representatives in the area. In fact, they have already scheduled a next meeting with the Santa Cruz de Tenerife Hotel and Non-Hotel Association (Ashotel) and with the "most important" unions.
This work emanates from the first meeting of this mandate held by the mayors of the South on October 25. In that forum they also created a second commission focused on the primary sector, security, energy, water and digitization, whose management is in the hands of Damián Pérez (Fasnia), Sebastián Martín (Arico), José Domingo Regalado (Granadilla de Abona), Agustina Beltrán (Vilaflor) and Josefa Mesa (Guía de Isora).
Employment, training, waste and infrastructure were some of the topics addressed in the first of the meetings, which took place at the Santiago del Teide City Council.
The Circle of Entrepreneurs of the South of Tenerife presented a document that collects the requests and claims regarding transport and infrastructures and other adjacent problems of the region. All this with the purpose of promoting the economic reactivation of the south of the Island, "always reaffirming that identity of a region that until recently was not had and that seeks the unanimity of the participating municipalities, without political colors in between and without promoting the confrontation, but rather building bridges and looking for solutions, "says the host councilor, Emilio Navarro.
This working group of the mayors of the South highlighted the work of the Círculo de Empresarios and assumes their requests and demands, bearing in mind that many of them are "of vital importance for the development of the region."
The purpose of the mayors of Fasnia, Arico, Granadilla de Abona, Vilaflor, San Miguel de Abona, Arona, Adeje, Guía de Isora and Santiago del Teide is to hold regular meetings with representatives of civil society to listen to them, take note of their demands and proposals and prepare a document that brings together the demands of all sectors. It will be the base "with which we will later sit with the Council and the Canary Islands Government to address solutions for issues that are of interest to the region, "says Emilio Navarro.