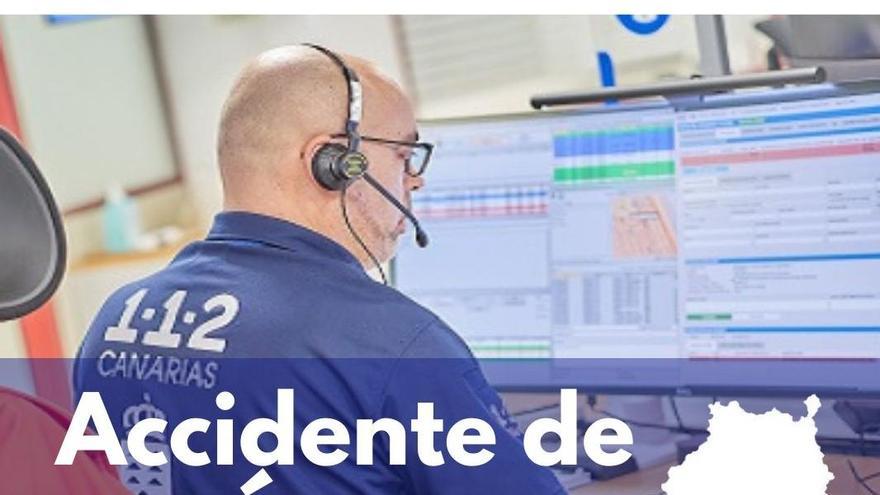 Yesterday afternoon, a car going in the wrong direction caused a front-to-side collision when they were traveling near the airport. Gran Canaria in the south direction, according to the Center Emergency Coordinator (Ceceos) 112 of the Government of the Canary Islands. Apparently, the alleged perpetrator is an elderly person who may have gotten confused and entered in the wrong direction. He event forced to cut two lanes to serve those affected, causing large delays.
The alleged perpetrator, in his 70s, was trapped inside the vehicle, so he had to be released by firefighters from the Gran Canaria Emergency Consortium. The man was conscious, although he may have initially suffered a serious leg injury. This person avoided, in any case, much greater damage, also thanks to the airbag devices, as it was a relatively new car. Furthermore, he showed a high level of anxiety. Meanwhile, the two occupants of the other vehicle suffered minor injuries.
The Traffic agents are now trying to determine where the driver could have sneaked in, since in principle it is considered that it was a mistake, using the cameras to do so.
The accident forced an extensive media operation, involving health personnel, the Cabildo's Highway Service, Local Police and Civil Guard.
On the other hand, five people were injured to varying degrees after the front-to-side collision of two passenger cars that took place around 6:50 a.m. yesterday on the TF-64 highway, within the municipality of Granadilla de Abona (Tenerife).
According to him Emergency and Security Coordinating Center (Cecoes) 112, firefighters from the Tenerife Fire Consortium freed two occupants inside. He Canary Emergency Service (SUC) assisted the injured, including a woman with serious multiple trauma; another woman with moderate facial and knee trauma; a man with a moderate knee injury; a man with moderate head trauma and multiple erosions; and a woman with moderate multiple contusions and multiple erosions.