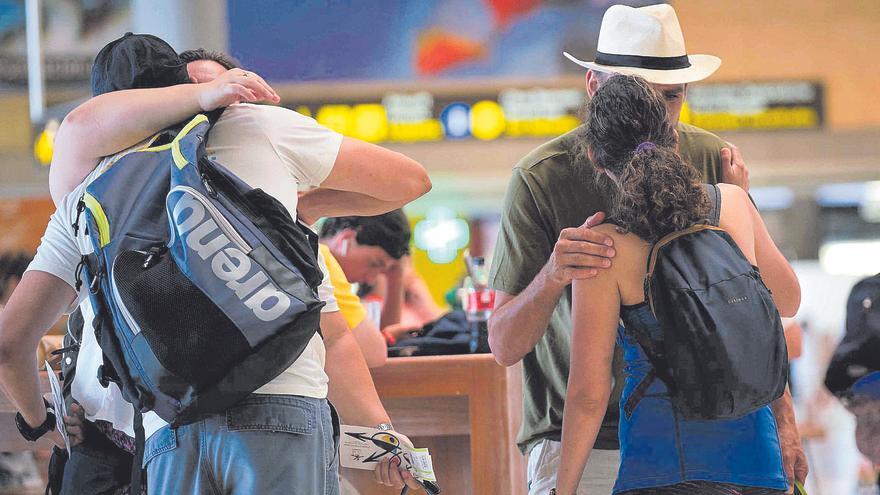 Christmas, time of reunions, hugs, dinners and gifts. To make that moment a reality, Canarians living on the Peninsula first have to carry out a procedure that sometimes represents a real headache: booking round-trip flights. Anyone who has not been foresight will find themselves with skyrocketing prices that are six times what is usual.
An example of this is that traveling from Madrid to Tenerife North with a resident discount with Air Europa costs only 29 euros on November 25 while if you try a month later, on December 25, The price shoots up to 239 euros per trip – the wallet suffers 724% more. In the case of wanting to go from the Spanish capital to Gran Canariathe ticket becomes less expensive: it goes from 42 euros on November 25 to 133 on December 25 – 217% more.
This year the first price peak will occur on December 22, which falls on a Friday. After the weekend, the other days when it will be more expensive to travel will be December 25, 26 and 28 and January 7. On those dates, flights from Madrid will be around 200 euros, regardless of the airline chosen or whether the destination is the two Tenerife airports or the Gran Canaria aerodrome. The return to the capital is also around 200 euros. In total, a Canarian must spend 400 euros on their visit to the Islands.
About 300 euros
But if it is about purchasing a flight from Barcelona to Canary Islands, the situation is much worse. lThe tickets from Barcelona to Barcelona airport The Gran Canarian palmsLos Rodeos and Tenerife Sur exceed 300 euros on Christmas Day. But in this case there are not even days with price peaks, but rather prices remain sky high throughout the holidays.
One of those islanders who will return to the Archipelago in December is Alicia Gonzalez. This 28-year-old from Tenerife works in a marketing company in Madrid and, thanks to the facilities offered to her at work, she will be able to bring her trip forward a few days. «On special dates they let me telework. I will go to Tenerife on December 22 and return to Madrid on January 8. In total, I will spend 190 euros and I think that the change of dates has saved me about 200 euros.".
Alicia González, who works in the Spanish capital, asked to telework to advance her flight
The increase in the cost of plane tickets is not surprising for Tomás Hernández, president of the Canarios Sin Alas platform. These "prohibitive prices" that airlines set today make them witness "one more year" of a "madness" that "will leave many islanders stranded during such important dates."
Solution: set a maximum price
The solution lies, in his opinion, in the declaration of the Public Service Obligation (OSP) for all flights between the Archipelago and the rest of Spanish territory. which would mean setting a maximum price for the tickets purchased by the Canaries. However, he denounces that this declaration remains paralyzed after the OSP Madrid pilot test was announced last year.Lanzarote.
Canarios Sin Alas asks the central government to "streamline" the Public Service Obligation
A measure implemented to reduce the cost for Canarians of moving around Spain is the 75% discount on flights, which is recognized as a right in the Canary Islands Economic and Fiscal Regime (REF). This subsidy came into effect in 2018 and has not been without controversy since then. Hernández acknowledges that the 75% discount "has caused prices to rise" but rejects its elimination: "What we believe is that it must be modified for it to work".
A right recognized in the REF
The regional Executive also supports the maintenance of the resident discount. The last time government sources spoke out in this regard was on October 27, at the presentation of the new transport route. Binter to Madrid. The Canarian president Fernando Clavijo He said that it was "non-negotiable" precisely because it is a right recognized in the REF.
Regarding this Binter line that will operate from February 1, 2024, Canarios Sin Alas considers that "it comes to improve the connectivity of the Archipelago with the Peninsula" and that, in that sense, "it is welcome.". Furthermore, Hernández believes that the route "will fill the void left by Ryanair" and, perhaps, "will result in a drop in prices."