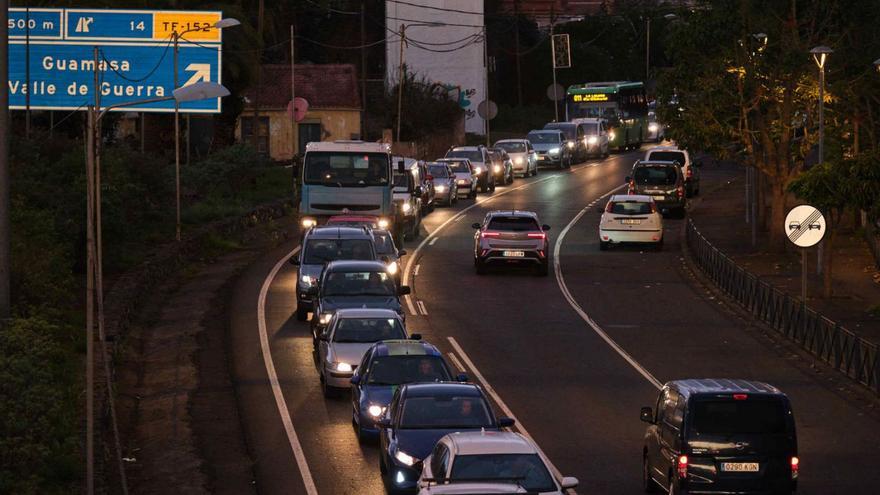 Alisios Norte applauds the measures taken by the Tenerife Council to reduce the traffic jam on the TF-5. The group, which unifies the neighborhood and commercial aspects to become an authorized voice of the civil society of the area, It values ​​"any initiative to solve a very serious problem", although "it is not enough because a combination of factors is necessary." This is how its president and spokesperson, Ignacio Rodríguez de Azero, expresses it.
"Alisios Norte values ​​the search for solutions to the mobility deficit on the Island, which those of us who travel to the Metropolitan Area on the way there and back suffer daily," says Rodríguez. The president recalls that "some of the measures adopted were demanded by our association and these are gestures that show a good predisposition, but they are not enough for us."
Bet
Alisios Norte demands "a clear and determined commitment on the part of all administrations that allows us to offer definitive results because we cannot continue in this situation of chaos on the roads of Tenerife». In this sense, the leader of the northern group emphasizes that "we are deeply concerned by the statements that announce almost zero investment in 2024 for the Island's roads." He adds: "Taking into account that no other company reaches our levels of collapse at any time of the day, it seems intolerable to us that this could be the case and we will do everything possible so that the situation can be reversed in some way."
Combinations
In Alisios Norte, "we understand that the solution involves a combination of many short-term measures and others of greater significance such as the third lane and the bus-vao lane." He values ​​that "despite being medium-term works, they should start now because we have been waiting for a long time." He emphasizes that "the Island should have three lanes throughout the ring. "Today and with the traffic density we have, it should be executed." He emphasizes: «According to mobility experts, a third lane throughout the north-south corridor; That is, from La Orotava to Santa Cruz and from Santa Cruz to Adeje, it is absolutely necessary and urgent to then be able to apply policies such as bus/vao lanes or other resources.
Transformation
Rodríguez de Azero is a regular sufferer of queues and values: "Unfortunately there are many anecdotes, some more serious than others, but the saddest thing is that suffering from this problem every day has forced many people to compulsorily modify their lives." He exemplifies: «There are those who have even had to change their place of residence for health reasons. Or those who have turned their car into a dressing table, office, breakfast place, etc. He concludes. "Something incomprehensible happens with construction or maintenance work during peak hours that distract or further aggravate the situation."
Citizenship
A group of businessmen, professionals and citizens of the north of Tenerife promoted the creation of Alisios Norte in 2019, a non-profit association that aspires to give a common voice to the region. The platform aims to be able to channel the most consensual demands of civil society, "without political affinities or defense of particular interests."