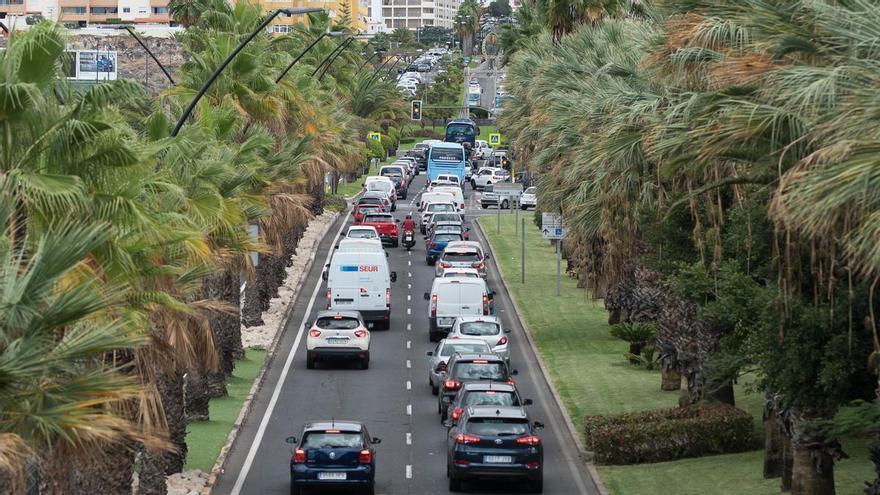 The Cabildo of Tenerife has been awarded the drafting of the project for the interchange and the undergrounding of Avenida Chayofita, in Los Cristianos (Arona). Palerm & Tabares de Nava, SLP, is the company awarded the contract for an amount of 481,500 euros and a period of one year to prepare the document. This is an action promoted by Metrotenerife that was already put out to tender at the beginning of the previous mandate (2020), a competition that was void.
The insular Minister of Mobility, Eulalia García, explained that both the Los Cristianos Interchange project and the burying of Chayofita Avenue are "two strategic actions with a view to improving mobility in an area that supports a high volume of traffic." She refers to the fact that "the circulation coming from the port, with notable maritime traffic, and that generated by a tourist area come together."
García alludes to the fact that the Los Cristianos Interchange "will respond to a demand from the southern town", while "it will allow the reorganization of this important space." It should be remembered that, in addition, This infrastructure is contemplated in the Special Territorial Plan for Infrastructure Management of the Tren del Sur, approved by the Cabildo on July 31, 2005.
The execution of a building with four levels below ground and one above ground on Avenida Chayofita in Los Cristianos is contemplated. The project will take place on approximately 8,000 square meters and will have the capacity to park 200 vehicles, as well as 18 docks for bus service. That is, the Interchange will have underground parking, the bus dock and waiting area and the building for customer service, offices, changing rooms, etc., in direct relation to the dock area.
The action on the avenue can be divided into three sections: Chayofita Avenue in the open, starting from the roundabout at the intersection with Juan Carlos I Avenue on the surface for 100 meters until reaching the area to be buried.
Chayofita Avenue will run underground for 250 meters, at which point it will return to the open sky to the west, with a stretch of about 150 meters. Once buried, the layout of the avenue undergoes a slight modification with respect to the existing situation to allow the insertion of the new Transport Interchange.