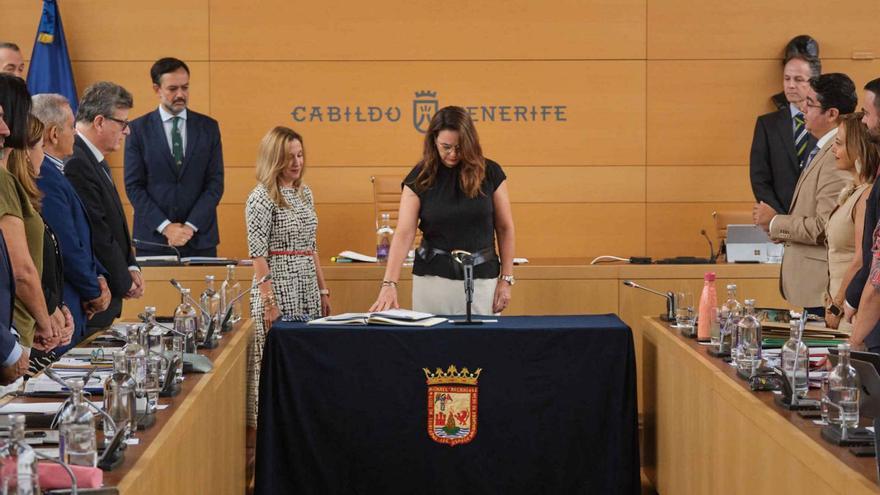 The Plenary of the Cabildo urges the central Government to guarantee the electricity supply in Tenerife. To this end, it proposes 13 measures, including the installation of 80 additional megawatts or those that are necessary, reform the law to ensure the supply and renewal of generation equipment, call for a public tender to renew the electrical system and facilitate the implementation of new operators, promote the reversible hydraulic power plant project and investments to improve and modernize the electrical distribution network.
This institutional initiative has as its preferred recipient the Ministry of Ecological Transition and the Demographic Challenge, which is urged to promote the urgent reform of Law 17/2013, of October 29, to guarantee supply and increase competition in the electrical systems of the islands, which establishes a transitional regime for the renewal of generation equipment to guarantee the security and continuity of supply.
The Plenary Session of the Cabildo also agreed yesterday to urge the General Directorate of Energy Policy and Mines of the Government of Spain to approve a new automatic load shedding plan. The Council proposes that temporary and extraordinary measures be established to guarantee the security of supply.
The reversible hydraulic plant in Tenerife, which is planned to be built in Güímar, is planned to guarantee the necessary storage to stabilize the island electrical system, for the management and use of surplus renewable energy production, to increase the installed power and to reduce the risks of the electricity supply.
Improving and modernizing the electrical distribution network through investments that guarantee the efficiency of the system when incorporating all the additional renewable capacity that is intended to be introduced into it, in order to comply with the EU objectives, is part of the measures approved by the Plenary.
The Cabildo demands that specific treatment be given to Canary Islands in updating the National Integrated Energy and Climate Plan 2023-203, recognizing the vulnerability of isolated electrical systems and the need to establish specific measures to reduce it. It also demands that a stock of material be available in the Canary Islands to face contingencies by undertaking repairs to the generation and transportation infrastructure in time.
The Cabildo also urges the central and regional executives "to implement the use of natural gas in the combined cycle plant to replace gas oil and fuel oil", betting on "this being the transition fuel that is used until "The decarbonization process is completed through the use of clean energies such as renewables, green hydrogen or other sources such as geothermal energy."
Activating the technical committee to monitor the operation of the Canary Islands electrical system and having Red de Eléctrica de España (REE) put the Tenerife-La Gomera cable into service in 2025 of the new interconnection complete the proposal to correct the situation of the electrical system in the island.