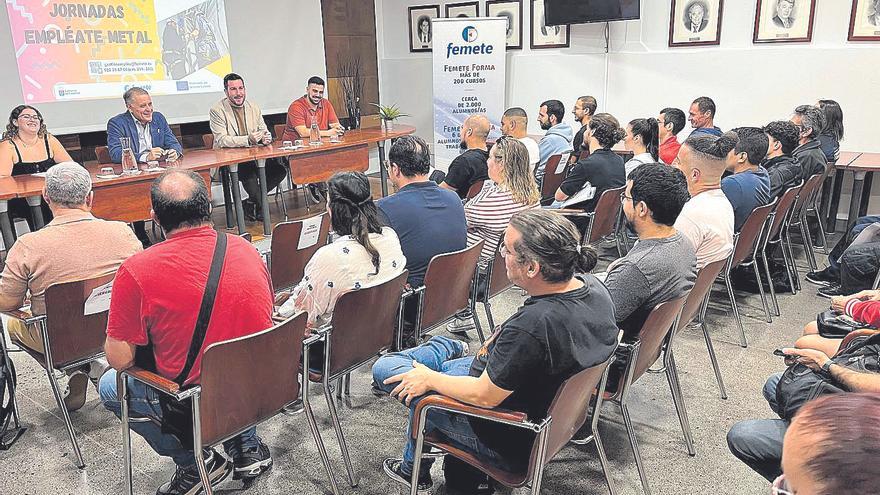 About 50 young people have participated in the Empléate Metal day, held by the Provincial Federation of Companies and New Technologies of Santa Cruz de Tenerife (Femete) at its headquarters in La Laguna. This activity was aimed at young people interested in learning about the opportunities of employment, training and entrepreneurship in industrial professions. In addition, attendees received informative talks on career guidance and the resources offered by entities such as Femete, Don Bosco Foundation, Youth Information Center, Canarian Institute of Professional Qualifications or the Development Society of Santa Cruz de Tenerife.
The opening of the day was carried out by the general secretary of Femete, José González González, and the CEO of Youth and Training of the Island Council of Tenerife, Serafín Mesa Expósito, who highlighted the growing demand for qualified personnel, especially in trades linked to industry, as well as its value for the economic and social development of the island, as well as the need to promote professional qualifications and entrepreneurship among young people.
Next, representatives from several companies in the sector participated, such as Grupo Maael and B&G Energy Solutions. The speakers presented the current situation and employment prospects in the industrial and metal sectors, the technical profiles most in demand by companies, as well as the skills required to access them. The sessions continued with various talks and workshops taught by entities collaborating with Femete, such as the Don Bosco Foundation, the Youth Information Center, the Canarian Institute of Professional Qualifications or the Development Society of Santa Cruz de Tenerife.
Likewise, the company Endesa and Femete have begun to select students for the second edition of the free course on Mechanical Maintenance of thermal power plants that will give access to a job pool that will cover the labor demand at the Granadilla and Candelaria facilities. This training action is aimed at people from the province of Tenerife who are currently unemployed or those who, while working, wish to expand their knowledge, specializing in the maintenance of thermal power plants.
The course will last 136 hours, from October 24 to December 1. It will include mandatory training in occupational risk prevention to be able to start working, as well as a more practical part with scheduled visits to the Candelaria and Granadilla de Abona thermal power plants.