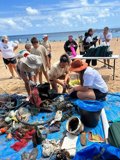 SANTA CRUZ DE TENERIFE, September 20 (EUROPA PRESS) –
The Cabildo of Tenerife has collaborated, through the Office of Environmental Participation and Volunteering, in the removal of about 165 kilos of garbage on Las Teresitas beach.
The activity took place on the occasion of the 'IX Great International Cleanup of Seabeds and Beaches' that took place this weekend simultaneously in 40 points in Spain and which is organized by the Network of Marine Vigilantes within the project Libera '1m2 against 'Basuraleza' developed by SEO/BirdLife in alliance with Ecoembes
The activity, which was attended by the president of the Cabildo, Rosa Dávila, and the insular director of the Natural Environment, Pedro Millán, consisted of a collection of abandoned underwater and terrestrial waste in which around twenty people took part.
Thus, all types of containers, bottles, kitchen utensils, cigarette butts and sanitary wipes were removed, along with various remains of garbage.
During the activity, a specimen of loggerhead turtle (Caretta caretta) was released from the La Tahonilla Wildlife Recovery Center of the Cabildo de Tenerife.
The activity carried out in Tenerife had the participation of the Terramare Recreational, Cultural and Sports Association and the support of the Santa Cruz Sostenible Foundation, the Santa Cruz de Tenerife City Council, Club Buceo y Vida, Club Sub Boreal, the Participation Office and the Environmental Volunteers of the Cabildo and the companies Cooperativa Fast and Desguaces Tenerife.
The objective of these activities is to make citizens aware of the serious environmental problems posed by man's actions in marine environments, since in just two days of the campaign, 4,803 kilos of waste have been removed from the Spanish coast in almost 40 enclaves. chosen, the Cabildo reports in a note.
The waste removed by the 'marine vigilantes', both on the seabed and on the surface of the coast, is categorized and recorded in the citizen science mobile application 'MARNOBA', a database of the Ministry for the Ecological Transition.