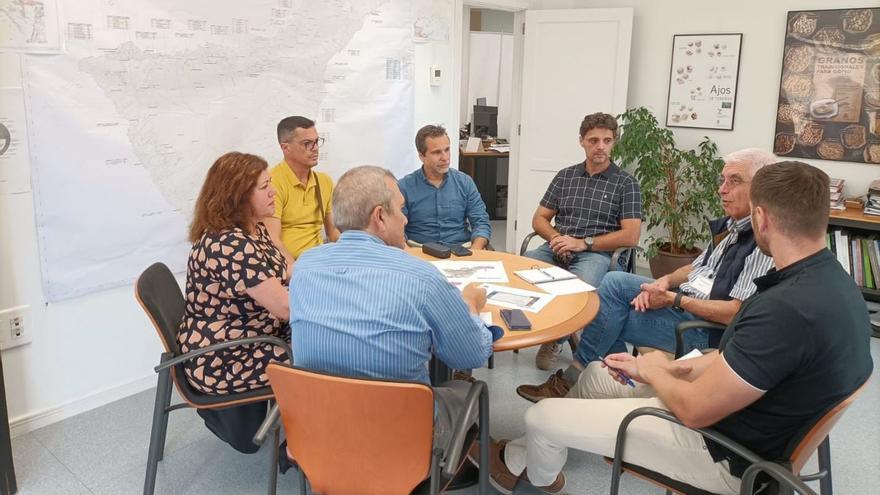 Tacoronte farmers have not been able to water their crops for weeks due to lack of water. The equitable distribution of it, promoting it from the El Boquerón pond and applying selective cuts so that it can reach all points of the network is one of the measures that announced the Agriculture advisor of the Cabildo, Valentín Gonzalezto the mayor, Sandra Izquierdo, during the meeting they held to evaluate the situation.
González Évora explained that for a few weeks now all the modules of the desalination plant located on Isla Baja have been operational. The measure makes it possible for more flow to be available in the northeastern region of the Island.
Regarding specific cuts in the water supply for irrigation, the public company Balten, in collaboration with the town councils, will inform about the days on which farmers will have it in each area, guaranteeing optimal use of the service.
The meeting also agreed to call for "supportive behavior" from farmers, in particular, and citizens, in general, "with the aim of guaranteeing rational use of water in each plot."
unusual situation
The fact that farmers with crops in the middle and lower fringes of Tacoronte have been unable to irrigate their farms for weeks is "an unusual situation that has caused crop loss or reduced production, with a significant reduction in income," he explains. the Tacorontero municipal government.
At the work meeting, in addition to the Councilor for Agriculture, Arsenio Gómez, the mayor of El Sauzal, Mariano Pérez, was also present; his Agriculture Councilor, Francisco Hernández; and Balten technicians Fernando Bonet and Benigno Quintero. This made it possible to jointly analyze the situation experienced by both municipalities in terms of water. Likewise, reflection was made on the sustainable agricultural policies adapted to the climate crisis and water scarcity and, ultimately, some short and medium-term actions were put on the table in order to improve and correct the limitations experienced by the agricultural sector in the area.
The Balsas de Tenerife They reported that water demand has grown more than 40% so far this year. The cause is, mainly, the proliferation of avocado plantations, a crop that requires large amounts of water. With the limitations that the Island suffers today, the Cabildo committed to studying and promoting the cultivation of more sustainable species with less water demand, as well as to "apply more fluid and effective coordination with the two town councils that allows promoting all "the necessary policies to overcome this extremely serious situation."