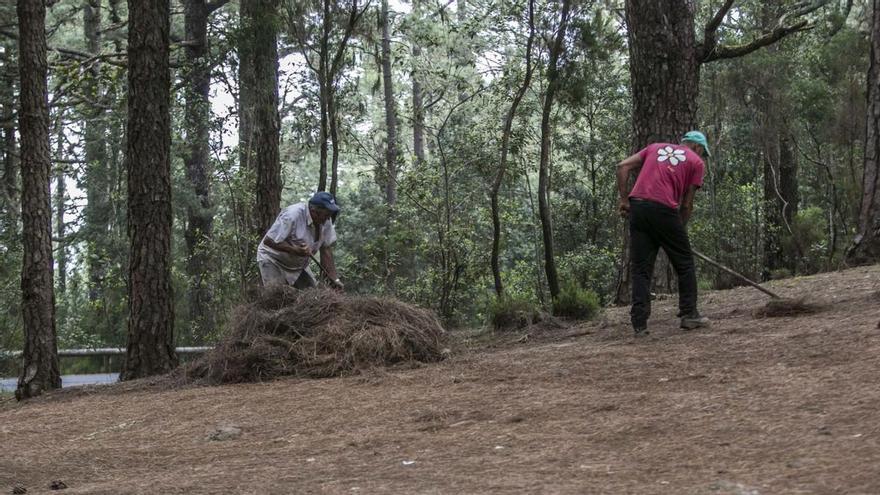 He Tenerife Council has reached an agreement with the pinocheros affected by the forest fire to redistribute the usesso that they can develop their activity during the current year.
Likewise, the island corporation has enabled two areas (Fasnia and Icod de los Vinos) to facilitate neighborhood use by citizens and has simplified the procedures for removing pine needles.
"It is an extraordinary and temporary measure due to the forest fire until the forest is restored. In addition, we are going to simplify the procedures to facilitate the removal of pine needles. Until now, an authorization was required, but now the procedure is simplified and it can be carried out through a notified act," the president of the Cabildo points out in a note, Rosa Davila.
The Cabildo remembers that forest harvesting is carried out in accordance with the management criteria of the island corporation and in accordance with the Annual Forest Harvesting Plan.
In public forests, the collection is carried out through public auctions and through neighborhood use, the pinocheros go to the auctions, where they are awarded the lots that they can withdraw each year.
Dávila also explains that The forest fire has affected more than half of the areas awarded to the pinocherosso the meeting was held to reach an agreement.
"It is an exceptional situation and after the efforts made, we managed to get some municipalities to give us part of their pine needles and we have been able to redistribute it among the successful bidders. We are talking about people who generate employment and it is important that they can continue developing their work," he indicated.
Besides, The Cabildo has enabled two areas – one in the north and another in the south – to facilitate neighborhood use –those that are not for profit– in such a way that citizens can have access to pine needles.
The Cabildo reminds that pine needle removal permits are granted in specific areas, so that the person can only collect pine needles in the indicated place.
This measure is done to maintain the ecosystem and avoid imbalances, so that there are no areas in which pine needles accumulate and others in which there are none.
From the Cabildo they detail that the accumulation of pine needles is beneficial for the forest because it fulfills a function of protecting the soil against erosion, as well as contributing to the formation of plant mulch, in addition to serving as shelter and food for numerous species of pine forest fauna.