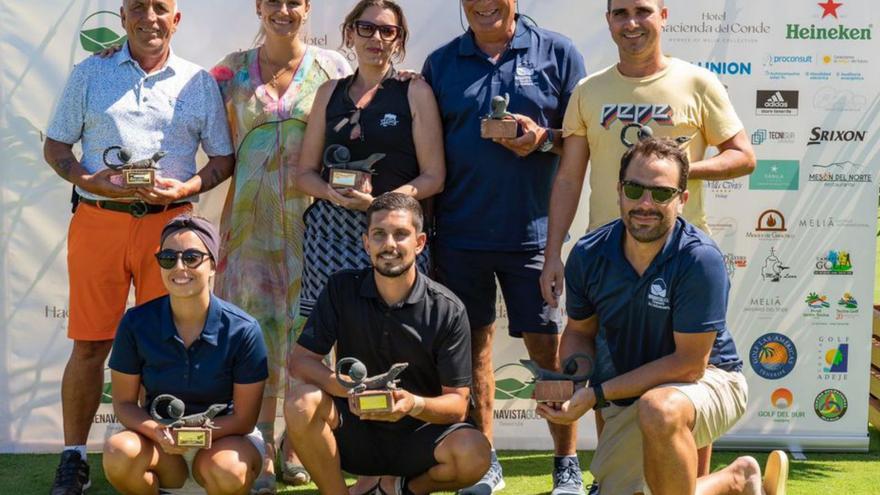 Yesterday, Buenavista Golf celebrated its 20th anniversary as it does best: with a tournament in which more than 100 golfers gathered to enjoy a splendid day on the Isla Baja de Tenerife.
Two decades have passed since the great Cantabrian golfer Severiano Ballesteros, who died in 2011, winner of three British Opens and two Augusta Masters, among many other titles, forever left his mark and his memory in Tenerife with the design and construction of Buenavista Golf. This course is framed in the spectacular Teno massif, which Ballesteros himself described as "unique" due to its particular location on the edge of the Atlantic.
The twentieth anniversary tournament was played under the individual stableford modalityand awarded the first two finishers in each category, two for men and one for women, in addition to the now classic ball closest to the hole and longest drive.
From early in the morning, the clubhouse welcomed the players to collect their cards, the welcome gift and, incidentally, have breakfast courtesy of the organization. At 9:00, the shot gun start was given to all the opponents who were distributed among all the holes of the course, on a course in unbeatable conditions thanks to the work of the entire Buenavista Golf team. The sun and the gentle breeze became the perfect allies for the good results to shine on the cards, even achieving a hole in one on the par 3 15th hole, since the good conditions invited to hit risky shots, attacking the flags, which translated into the achievement of quite a few birdies and pars, which the participants commented after the course, while having an aperitif in the Heineken area.
The meal and awards ceremony was sponsored by numerous companies that wanted to join this event, such as Camino Los Laureles, Ilunion and Proconsult and took place at the facilities of the Hacienda del Conde hotel, member of Meliá Collection, which is the resort of great luxury that accompanies Buenavista Golf. At the same time, the trophy presentation gave way to a great raffle of gifts, such as flights, golf equipment and experiences that put the finishing touch to a memorable day for all golf lovers.
In the second men's category (with a handicap between 12.5 and 36), Jorge Benesey won and Antonio Afonso Pérez came in second position. In the first men's category (with a handicap between 0 and 12.4), the winner was Juan Carlos Rodríguez Gonzalez and in second position was Billy Ogleby. Within the Ladies category, Elen Ober won, followed by María Velázquez Morales. Antonio Dorta won in Senior and in Scratch, David Velázquez. The longest drive was achieved by Tomás Cloguen. The closest ball to the flag and the best Member score went to Billy Ogleby.