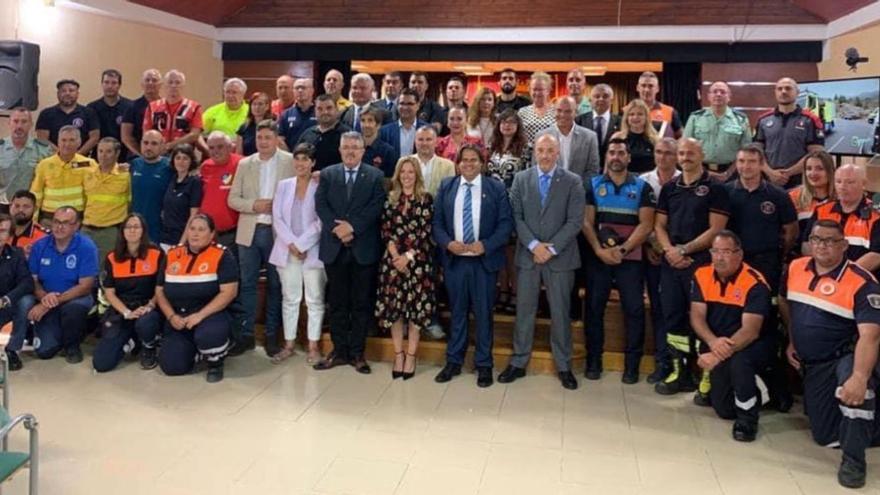 More than 200 people who worked to put out the forest fire in Güímar that started in Arafo on August 15 received tribute from the municipality promoted by its City Council. The House of Culture brought together representatives of volunteers, companies, associations, groups, NGOs, private entities, security forces and bodies, administrations and professionals to whom all those involved expressed the gratitude of the güimareros.
The most emotional moment of the event was carried out by farmers Aquilino Galdona (Los Pelados) and Javier Gómez (Las Dehesas). They spoke on behalf of the wine families with farms in these areas of Güímar where century-old vineyards survive and are the livelihood of many families. They were grateful for the work that allows their survival and maintains the legacy of generations.
Authorities
The mayor, Gustavo Pérez, presided over the event together with the head of the Cabildo, Rosa Davila; Cándido Gómez, Councilor for Security; Nayra Caraballero, mayor of Agriculture; José Marrón and David del Pino, general directors of Emergencies and Security of the Government of the Canary Islands, respectively. Coordination was the word most repeated by those involved, who repeatedly highlighted the fact that after a fire like the one that is about to be extinguished today, 33 days after it started, there is no need to regret human losses, homes or serious damage to infrastructure. key for the Island.
Music was part of Güímar's tribute through the interpretation of songs referring to the days of this fire, performed by various groups in the municipality.