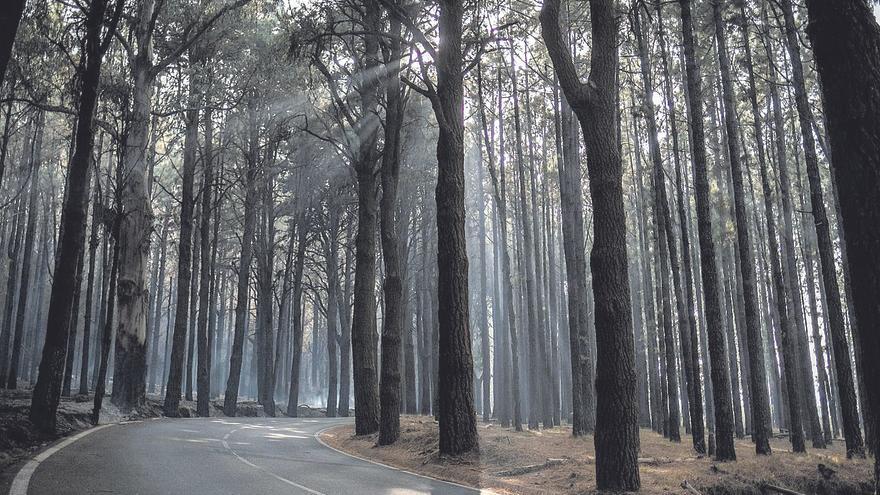 More of 5,000 professionals from the Canary Islands of the branches of forestry engineering, agricultural engineering, veterinary medicine, agriculture and livestock, gathered in Profor Canary Islandswarn in a manifesto that the archipelago «It's a powder keg» exposed to mega forest fires that can break out simultaneously on several islands so he understands that «The worst is yet to come».
Thus, they state that it is "a threat that gets closer with each passing year and who claims a new model that takes care of biodiversity, since it is not a question of more planes and helicopters, but of a profound change».
Along these lines they indicate that the Canary Islands are the «perfect scenario» so that more and more forest fires develop, which in turn can «be transformed into megafires with unprecedented destructive power for people and infrastructure that could even be declared simultaneously on several islands.
This threat affects the majority of the islands, the manifesto states, some of them very densely populated as Gran Canaria, Tenerife and La Palma.
According to estimates by these experts, only in Gran Canaria there are more than 40,000 people at potential risk within the High Fire Risk Areas officially declared.
Four years ago, the manifesto recalls, the big fires in Gran Canaria, and experts have already warned that this situation was going to be repeated and that conditions could be worse. "Unfortunately, time has proven us right», they add. On that occasion, August 2019 in Gran Canaria, the lives and homes of more than 9,000 people were directly threatened by a fire 9,500 hectares and in the still current fire of Tenerifehave been more than 12,000 people whose homes have been directly threatened by a fire that has burned almost 15,000 hectares.
post apocalyptic scenario
Professionals insist that "the worst is yet to come." if you do not act rigorously and quickly» because society has not yet faced the «worst possible scenario».
In this sense, they point out that in the current Tenerife firethe meteorology, "without being favorable, could have been even more complex, with stronger winds and faster spreads.
The fire consumed most of its 15,000 hectares of perimeter in five or six days. However, the great fire of Tenerife 2007 consumed the same surface in just three days, pushed by a east component wind of more than 70 kilometers per hour. On the other hand, they indicate that the situation of suffering "multiple simultaneous fires», within the island of Tenerife, on other islands or even at the state level, which would have prevented having the enormous number of resources, aerial means and troops that have been provided by other councils, the Government of the Canary Islands or the State from other provinces. "This doomsday scenario cannot be ruled out at all, as the experiences of other countries such as USA, Canada either Greecebecause our territorial model is causing a constant increase in vegetal fuel in the landscape and that this, together with the favorable climatic conditions of the Canary Islandsincreased by climate change, generate the perfect cocktail for the development of large forest fires," the manifesto states.
Experts suggest that to remove the possibility In order for these terrible scenarios to multiply and intensify in the future, we must "get to the bottom of the problem", which in his opinion involves change the territorial model "because the threat It is not going to dissipate because more media are addedmore helicopters or more planes.
In his opinion, "what is really needed is to have landscapes in which fires can be put outadding that the landscape model that can be turned off is the mosaic landscape».
The manifesto states that it is about "building a landscape in which intersperse different uses of the land and which, fundamentally, represents a new territorial model in which the accumulations of fuel available for burning are limited».
Primary sector
In this model, the manifesto points out, the agricultural uses and extensive livestock farming play a fundamental role, so it is "crucial" that medium-sized agriculture is maintained and recovered and extensive livestock farming.
«They are activities necessary to maintain a resilient landscape that allows preserving all its functionality including biodiversity. That is why we talk about building a regenerative mosaic landscape on the islands," they point out.
Among the key measures to boost this recovery, the manifesto cites the Payments for Environmental Servicesthat is, establishing contracts with agricultural, livestock or forestry farms in which they are paid a annual rent in exchange for keeping their land in production and adopting sustainable production practices that benefit biodiversity.
This measure is currently applied in Gran Canaria through the Gran Canaria Pastorea Program and it is considered "essential" to promote and expand agriculture and widespread forestry activity in the archipelago, they point out.
Another substantial part of the model is the creation of strategic discontinuities in protected areas that, appropriately selected, contribute to preserving biodiversity in them through silvicultural treatments, prescribed burning or even extensive grazing.
Future climate scenarios
In this way, acting in small areas, can be significantly reduced the impact of fire and its consequences for our fragile biodiversity.
The manifesto concludes by pointing out that, to remove forest fire threat in the Canary Islands, it is not enough to insert structures less flammable with agricultural use, but also promote productive models that contribute to the capacity of biodiversity to regenerate since the natural ecosystems and semi-natural ones adapt to the future climate scenarios. «Having nature and its natural wisdom in our favor is key», states the document.
To the manifesto, promoted by the Association of Spanish Foresters in the Canary Islands (Profor Canarias), among others, the College of Forest Engineers; the College of Forest Engineers in the Canary Islands; the Professional Association of Forest Agents and Environment of the Canary Islands; the College of Agricultural Technical Engineering from Las Palmas; the College of Technical Engineers Farmers of Santa Cruz de Tenerife; COAG and Asaja.
The forest fires 66,063.51 hectares have burned in Spain in 2023, according to data from the Ministry for Ecological Transition and Demographic Challenge collected to date 20th of Augustin the absence of accounting for the entire surface devastated in the fire that has affected Tenerife since last August 15.
The fire is located already stabilized and on control tracks after burning almost 15,000 hectares in a perimeter of 90 kilometers throughout 12 municipalities, but the reactivation of some continues 'hot spots' in the northern strip and about twenty neighbors of Santa Úrsula They continue to be evacuated from their homes as a precaution.
In any case, from January 1 to August 20 182,000 fewer hectares have burned than a year ago, 65.2% less, although the figure is a 41% higher than the decade average for this period.
With respect to the total number of claims, there have been 6,205 accidentsof which the majority, 4,227, have been attempts at less than one hectare, while there have been 1,978 fires greater than one hectare, of which 18 have been recorded as large forest fires greater than 500 hectares.
In addition, the 18 large forest fires from January 1 to August 2023 is higher than every year for the same period since 2013 except for that of 2022, when 54 were registered.
In the case of the Canary Islands, the archipelago has suffered 0.53% of claims up to August 20with 11.08% of the wooded area affected as well as a 4.70% of forest area.