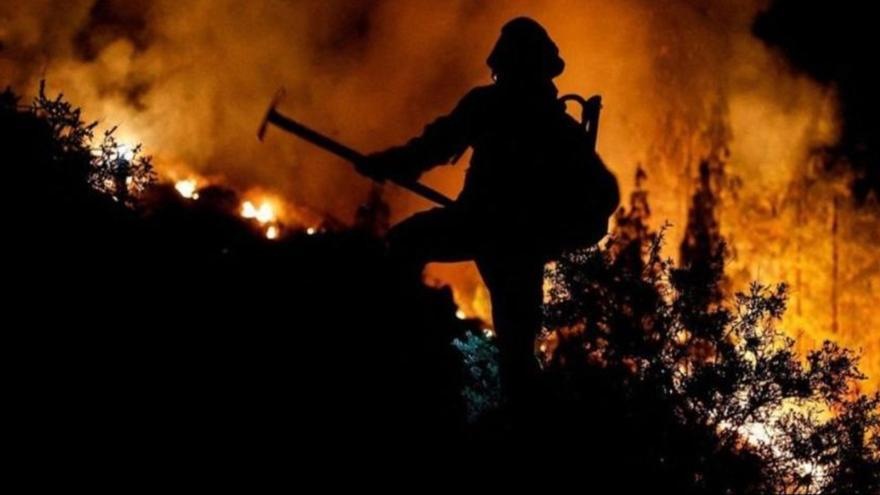 "From my little corner of the press I try to show my concern for these issues in the line of making readers aware, both talking about the need to care for the environment and climate change, regretting the fires or thanking the work of the media extinction," he says.
The same is true of the cartoonist for El Día and La Provincia José Luis Padilla, known as Padylla, who in recent days has published images of this tragedy as well as on other occasions when issues arise that "touch our hearts."
The cartoons reflect the pain, anger and solidarity generated by these catastrophes and perhaps the best known is one in which the attempt to put out the fire with hearts is also observed, although buckets of water are used in Morgan's image in his it is a hose.
The tragedy is a source of inspiration to address other issues, for example, in a drawing the president of the Canary Islands, Fernando Clavijo, is seen in the middle of the fire, while the national deputy of CC, Cristina Valido, remains trapped in a block of ice at not advance the negotiations in Madrid.
"Since it is a current issue, it is inevitable to mix it with other issues," says Padylla, adding that graphic humorists "cannot stay out of what is happening, and even less so in a catastrophe like this."
The illustrator from Tenerife Elvira Piedra has released three images on the networks based on the tragedy in Tenerife, which has affected her personally because her childhood was spent in some of the territories devastated by fire.
In one of the drawings you can see a woman hugging an island on fire as a way of representing that "every one of us who lives here is also on fire" and in another you can see a firefighter and a seaplane that serves to thank the extinction work.
But there are more cartoonists who have spontaneously joined the movement, such as Dácil Roca, Elsa Estrada, Almost a diary, Ángela Sabina, Mita Polo, Rebujina and Illustra Aurora, who have also made their work focused on monograph on the tragedy experienced these days.
All of them participated at the time in what is known as the Volcano Project, which emerged after the eruption of La Palma, which consists of the altruistic contribution of works by artists with whom two books have been made, one of comics and the other of illustrations whose benefits They go to the victims of La Palma.
Behind the initiative is the Fundación Canaria Cine + Cómics, which has also organized an itinerant exhibition throughout the islands that has just been inaugurated in El Hierro.