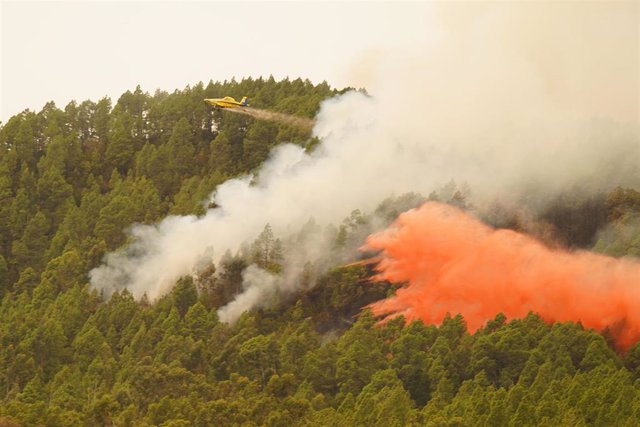 A seaplane drops water on the forest fire in the vicinity of the municipality of El Rosario, on August 17, 2023, in Tenerife, Santa Cruz de Tenerife, Canary Islands (Spain). The forest fire declared in the mountain area in Arafo is located – Europa Press
SANTA CRUZ DE TENERIFE, Aug. 21 (EUROPA PRESS) –
The General Directorate of Emergencies of the Government of the Canary Islands, based on the information available and in application of Decree 60/2014, of May 29, which approves the Special Plan for Civil Protection and Emergency Attention due to Forest Fires in the Canary Islands (INFOCA), has declared the end of the evacuation of Arafo and part of El Rosario due to the forest fire that affects the island of Tenerife.
Specifically, in the municipality of Arafo, the end of the evacuation has been declared in Casas de Gorgo, Tablonito and Los Frailes, which are accessed from the TF-523 highway, as well as El Camino Juan Leal, in the Los You are, and the area of ​​El Pinalete, in such a way that with these relocations there are no longer evacuated areas in the municipality of Arafo, as reported by the Canarian Government in a press release.
Regarding the municipality of El Rosario, the end of the evacuation has been ordered in the Las Barreras neighborhood, El Preventorio street from the TF-24 intersection to the Las Raíces Recreational Area.