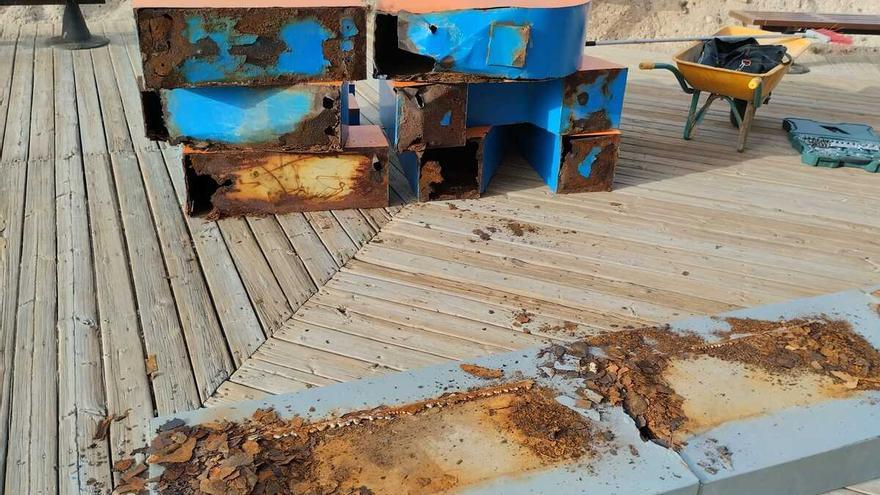 The first thing you see at the entrance of a place is going to be the greatest impression you take from that place. And it seems that from the Tourism area of ​​the municipality of Granadilla de Abona they were not very happy with the state of the corporeal letters of 'El Médano'.
Thus, due to the poor condition in which the letters were foundlocated on the Nuestra Señora de las Mercedes de Roja promenade, they have been removed to avoid risks and guarantee the safety of users.
The letters on the poster were already in a terrible state, dominated by rust, which was becoming more and more visible. The risk of a fall of any of the letters has led to the decision to remove them and bring new ones.
And it is that the Department of Tourism is already working on the replacement of the corporeal letters. Their idea is to make them with another type of material that guarantees greater durability and adaptation to the exposure to the marine environment that they must withstand.
Tourist and sports area
El Médano is one of the most important geographical points of the municipality of Abona granadilla. It is an area very frequented by specialists in water sports such as windsurfing or the kitesurfing.
Besides, the Montaña Roja Special Nature Reserve, La Tejita or La Pelada beach or Bocinegro mountain They are places increasingly frequented by nature tourism. With all this, the place could no longer keep the letters in that state.