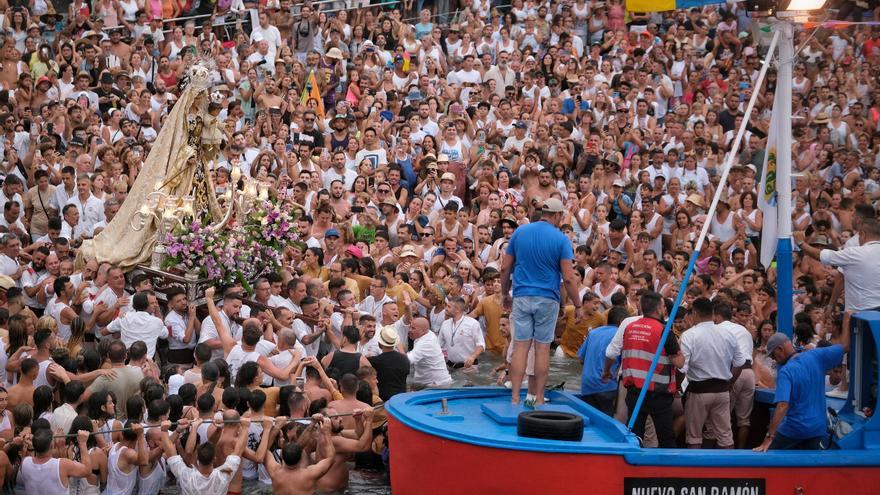 Among thousands of people, the patron saint of sailors toured the streets of Puerto cheered by the faithful to this event, who did not stop singing and cheering at the voice of "Long live the Virgen del Carmen", "Long live San Telmo".
This is the most important moment for the people of Porto, not only during the July festivities, but also throughout the year.
At 8:24 p.m. this Tuesday, the ship New Ramon embarked the Virgen del Carmen between the madness of thousands of people that crowded the fishing pier of Puerto de la Cruz.
Almost hand in hand, the Virgen del Carmen and San Telmo went to sea in one of the most massive festive celebrations in Tenerife and that the people of Porto live in a very special atmosphere, one of seclusion and fun.
Procession
The most desired shipment directed by the brotherhoods of the Virgen del Carmen and San Telmo arrived at a good port, beginning the classic journey that led them along the entire coast of Porto, greeting that sunset that only occurs once a year, when the Virgen del Carmen leaves her temple to visit the sailors.
From the exit of the Parish of Our Lady of France, after the mass concelebrated and presided over by Marcos Albertos, the Virgin was carried on shoulders to the little beach of the historic pier. Between cheers, songs and thousands of applauseand accompanied by the members of the municipal and insular Corporation, with the mayor Marco González in front, she arrived at the dock where thousands of people who have this appointment marked on the calendar every year were also waiting for her.
"Nothing happens, the Virgin is on board"
At the fishing pier, a crowd was waiting that breathed easy, relieved with a smile on their faces and tears in their eyes to sing the now traditional "Nothing happens, the Virgin is on board", who are already recited by adults and children in a rhythm splashed by the water that shines before the arrival of the patron saint of the seas. An environment and an atmosphere that is overwhelmed by the voice of unique artists such as Tony Acedo and Chago Melianwho celebrates 41 years paying homage with his voice to the Virgin, Ave Mariaand a whole town.
This time it was the Nueva Unión Musical Group that led the way with its roll that resounded on the four walls that overlook the sea window of the dock, the nerve center of the great celebration that brings together people from Porto of all generations, as well as thousands of visitors. that do not stop getting excited every year when they see the Virgen del Carmen embark.