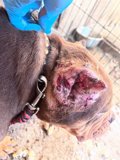 SANTA CRUZ DE TENERIFE, June 9 (EUROPA PRESS) –
Agents of the Internal Security and Administrative Police Unit of the General Corps of the Canary Islands Police (CGPC) have carried out an investigation in the southern zone of the island of Tenerife and have identified ten people as alleged perpetrators of a crime of mistreatment and animal abandonment.
The Association for the Defense and Protection of Animals of the Canary Islands informed the Canary Islands authorities of the deplorable state of four canine specimens, which presented obvious physical injuries and were in abandoned conditions, in an inadequate hygienic-sanitary environment.
Thus, agents belonging to the Environment Group (GRUMA) proceeded to withdraw four canine specimens due to injuries, which required veterinary attention, and the lack of optimal conditions for their care by those responsible for the animals, collects a Note from the Canarian Police.
During the first inspection, it was discovered that the four intervened dogs were owned by two individuals, neither of whom was the legal owner of the animals.
In addition, during the inspection of a second parcel owned by the owner of the specimens, where, according to witnesses, there were around fifteen more animals, the alleged offender, upon learning of the investigation, proceeded to remove most of the animals from the farm to avoid legal issues.
However, he abandoned four canine specimens that showed symptoms and behavior indicative of animal abuse, which led to their confiscation.
Subsequently, the agents managed to locate the farm where the rest of the animals were, which led to the removal of a total of ten canine specimens and one equine.
These animals had obvious physical injuries that were decisive in the case, in addition to being in disastrous hygienic-sanitary conditions.
As a result of the operation, ten people are being investigated as alleged perpetrators of the crimes of animal abuse and abandonment and nineteen canines and one pony have been confiscated.
The intervened animals have been transferred to two animal shelters located in the north and south of the island, respectively, where they will receive the necessary custody and care for their recovery.
Over the course of this year, the removal and seizure of 105 specimens of animals has been successfully carried out, thanks to the close collaboration with the animal protection associations of Tenerife.
These animals are now under adequate care and protection, guaranteeing their well-being.