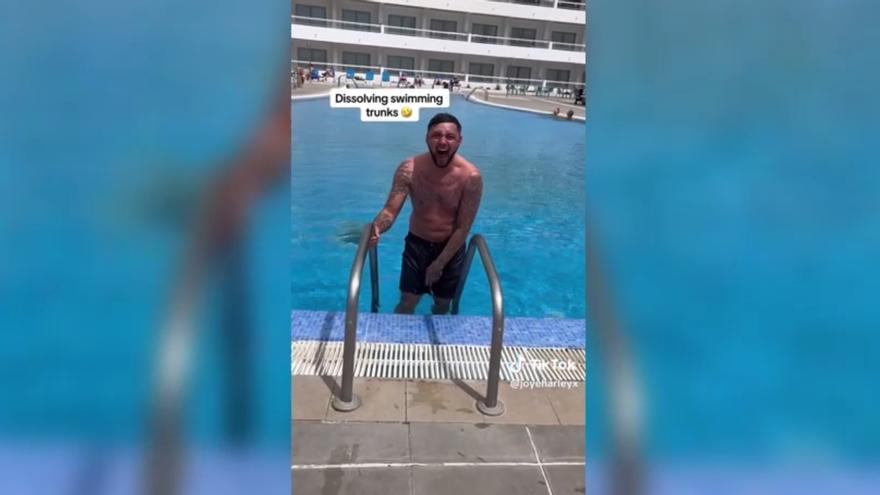 Joyce Harley, a young British woman with a TikTok account that has almost 40,000 followers, has gone viral thanks to a clever prank she played on her partner while on holiday in Tenerife. The prank video, which has amassed millions of views, shows the moment Joye manages to dissolve her boyfriend's swimsuit in the pool, leaving him shocked and bewildered.
The couple were enjoying the sun at their hotel in Tenerife, Spain, when they decided to take a refreshing dip in the pool. Without her boyfriend suspecting a thing, Joye had carefully planned the prank and recorded the entire process.
Joyce Harley, originally from Hemel Hempstead, United Kingdom, decided to give her boyfriend a joke swimsuit that dissolves in water. As her boyfriend swam carelessly, the swimsuit began to slowly unravel, causing a surprised expression on her partner's face.
In the video description, Joye wrote: "He didn't even realize they were disbanding, he just thought they were crap". The boyfriend's reaction has conquered thousands of users on TikTok, and the video is on its way to exceeding nine million views.
Joye's creativity and sense of humor have led to her TikTok account garnering a huge following, and this particular prank has become a true viral hit. The ability to surprise and make people laugh through social networks demonstrates the power of humor to connect with the audience and generate entertaining content.