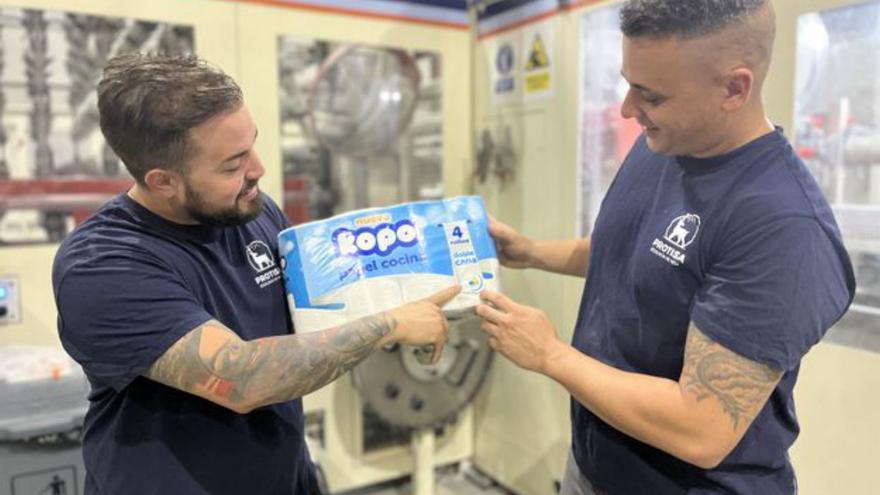 Protisa is born in Canary Islands in 1995 by the hand of a Valencian family closely linked to the manufacture of tissue paper. Genaro Malo, co-founding partner, settles in Tenerife. In that year, he searched for a production philosophy based mainly on the production of recycled paper through recovered paper. It is currently the only recycled paper factory in the Canary Islands. Protisa thus celebrates 28 years in the Archipelago at the hands of Raquel Malo Serisa, daughter of Malo, managing director of the group. She continues with the work that her father did, doing what Protisa likes: working to create a second life, promoting the circular economy in the Canary Islands. Its staff is made up of 24 collaborators, including administration, sales, operators, quality and purchasing personnel.
The challenges for the future of Protisa include continuing with its paper packaging in the range of recycled products, so that the final consumer buys a 100% sustainable product, respectful of the environment. Made in the Canary Islands, bet and follow your policy of recycling.
Sustainable development is not only a priority, but necessary to preserve its ecosystem. It is its axis and pillar of work for the next expansion projects of the company with a view to its ecological assortment.
This year will be important for the international expansion of Protisa, by opening its brand image in other markets such as Senegal, Ghana, Morocco or Gambia, attached to the Peninsula.
It is important to highlight the work that this industry develops and that will continue to be carried out, because "it is a personal and professional satisfaction to know that the human group that forms Protisa contributes with its good work and professionalism to reduce the environmental impact, providing a second give life to the product that we initially bought and then discarded", explains Protisa.
Compliance with regulations and corporate social responsibility led Protisa to obtain, among many others, the FSC certificate for manufacturing in 2018. In 2016, the IFS HPC, for adopting a standard to audit quality and safety, or in 2020, R&D +I, by incorporating a new converting line to improve energy efficiency