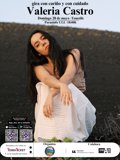 SANTA CRUZ DE TENERIFE, May 27. (EUROPE PRESS) –
The singer-songwriter from La Palma Valeria Castro brings her latest tour, entitled 'With love and care', to the Auditorium of the University of La Laguna, this Sunday at 6:00 p.m. Tickets can be purchased at a price of 22 euros if purchased in advance on the Tomaticket platform and 25 euros if obtained the same day at the box office.
Valeria Castro owns a sensitive, fragile voice, conducive to chills. Born 23 years ago in La Palma, she belongs to that very new generation familiar with the terminology of trap, tanganas, reggaeton or perreo, but her voice, in open contrast, stands wise, rooted and ancient, as if it came from a older woman with a soul lacerated by the sorrows of life.
Castro is the present and future of national 'popclore' and his first EP, 'Chiquita', has catapulted him into being, in the eyes of critics and the industry, one of the great promises of Hispanic song. Last March he released his first full-length album, 'With love and care', which he will present on stages throughout Spain and part of Latin America.