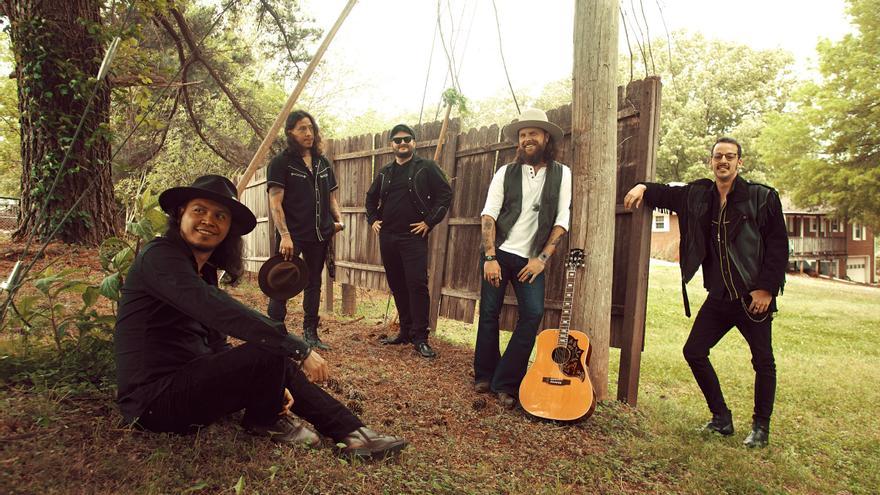 The Red Beard group from Gran Canaria will present their sixth album 'Die Trying' on June 2 at the Miller Building in Las Palmas de Gran Canaria and the following day at the El Sauzal auditorium in Tenerife. The quintet, highly admired in the southern rock circuits, is at a time of maximum creativity and professional activity and has been the only Spanish band to record at the mythical Fame Recording Studios.
Considered one of the revelations of southern rock in recent years, the band from Gran Canaria Red Beard continues to reap international successes. The formation led by Jaime Jiménez has just released his sixth album, Die Tryingwhich will present in Gran Canaria on June 2 in the Miller Building at 9:00 p.m., and in Tenerife in the El Sauzal auditorium the following day at 8:00 p.m.
The album has been recorded in the Fame Recording Studios in northern Alabama, a studio where all the important music of the 20th century was born, from Aretha Franklin to Wilson Pickett to the Rolling Stones and Bob Dylan. "They call it the hit factory because all the musicians who came out of there were always number one," says the singer himself. "It was a place we wanted to be as artists and we felt very honored by it." The truth is that Red Beard is the first Spanish band to record at this rock tempo and «it was through our record company, since the director of the company had contacts with Peer Music in Nashville and through Kevin Lamb, producer of the group Alabama, who mediated with them, we were able to go to that studio, he even intervened as a co-producer». And it has been published by Peer Musica itself, which is the most ancient of the world.
The new album "contributes a bit more, there is a little bit of soul and even the song that closes the album is a slightly more badass rock and roll that is out of our style, with a slightly fresher sound," he points out. Jiménez dedicates himself entirely to music and recognizes that he has good moments and others not so much. "People think that having a rock band is being a Rolling Stones and get rich and famous, but it's not like that. I take it calmly, I am doing what I like and one is escaping as best as possible ».
During his tour of America, the singer acknowledges that "people freak out that we are from the Canary Islands. I remember the first tour USA when we said we were Spanish and came from the Canary Islands the audience in the front rows looked at each other saying what the hell. But they are very respectful of you playing their music that way." Their influences remain the same, although they have advanced in sound. "When you start, you feel for it because this is a long-distance race and I like to learn," he says, in some tours in which they have coincided with ZZ Top and shared the bill with Lynyrd Skynyrd, but in the end it could not be carried out due to he covid, but it is playing on a lot of English radios. "In the end there are many goals to meet, but you have to keep improving and keep learning."
For Jiménez, the question of why we don't sing in Spanish arises only in Spain. «What will the language have to do with it? From the outset it is a music that is not born here. But the language thing is already a bit tiresome, because there are Icelandic bands that have succeeded in the world because they sing in English. It is a question of musical quality. I grew up listening to Aretha Franklin, Wilson Pickett, Ottis Redding and I learned with that language and you get used to it. I don't see any barrier, it comes AC DC to Seville and 60,000 people go to see it, because I guarantee that 58,000 have no idea what the lyrics are saying. People go to see the Rolling Stones because it's them, but they have no idea what they're singing. Something moves them, music has a meaning beyond that. I decided to go to the base, where that comes from and not consume substitutes.
The group is made up of five musicians, although for the concert at the Miller they will also bring some chorus girls. In addition to Jiménez, there are Jeremías Lobo (drums), Daniel Alvarado (bass), Bernie Otega, (piano) and gidkly rodriguez (lead guitar). The lyrics of these new songs "are a summary of all these years of struggle", they are lyrics of improvement, of saying that 'here we are and here we continue', and there is a five-episode documentary on YouTube "where we tell the whole process and Collaborators come out talking and tell how they met the group.