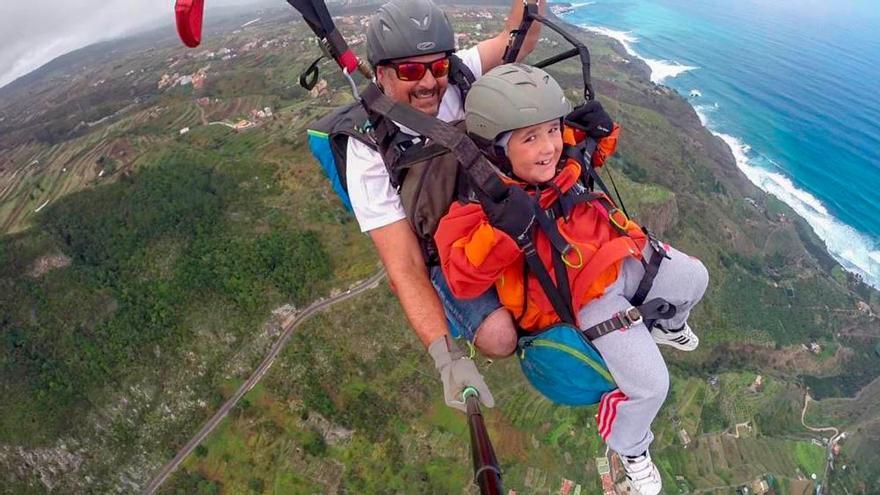 The Realejos started this Friday, May 26, 2023, a new edition of its paragliding festival Parafestwhich brings together fans of this sport in Canary Islands, receives some of the greatest international experts in acrobatic paragliding and also offers the opportunity for people with functional diversity to break the barriers that usually prevent them from paragliding. with the title Parafest without barriersthe organization and its volunteers, with the support of the City Hall of Los Realejoswill make it possible for them to take to the skies this weekend almost thirty people with autism, intellectual disability, multiple sclerosis or different physical and mobility limitations.
Functional diversity is not an obstacle in The Realejos so that people who wish to can live the experience of taking off from the track of the crown and rise for a few minutes over the Valley of La Orotava. This experience, which has been going on for several years, will benefit this year people linked to groups and entities such as Afanes Canarias, Activez, Probosco, CEIP Campino, Autism TenerifeAthletes Without Borders, Blue Vision Autism or Pigeon Trail Project.
The director of the Parafest is Roberto Machin Casanas, a special education teacher in love with paragliding. In 2013 he started this sporting adventure and since 2016 incorporated an inclusive aspect that in the last seven years has allowed them to take flight, safely and in tandem with expert pilots, about 160 people with functional diversity. This weekend it is expected that there will be almost thirty more.
Roberto Machin explains that these adapted flights require prior work and special preparation, in which the interested parties and their families and, in many cases, the professionals from the associations that work with them participate. His promoter points out that he has no references to any other paragliding festival that bets at the level of Parafest for the inclusion of people with some type of disability, "but for us it is something that generates a lot of hope, emotion and values".
This Friday the technical meeting was held with the judge of the competition and the concentration of pilots. Tomorrow, Saturday and Sunday, starting at ten in the morning, the flight activities will arrive, both the acrobatic and precision flights carried out by experts as well as the flights adapted for people with functional diversity.
For the royal mayor, Adolfo Gonzalez (PP), Parafest is «a sports initiative that, in addition to promoting one of the most differential disciplines of the realejera active tourism offer, has added value. Its social value, that of inclusion, by offering around thirty adapted flights people with disabilities or functional diversity.
Parafest includes the Precision Championship of the Canary Islands Open FAI II, in addition to counting free flights starring several dozens of lovers of this sport, many of them residents of Los Realejos. In addition, there will be exhibitions by international paragliding experts, such as Joseba Izagirrea member of the Spanish team in this specialty, and the tandem formed by Juan Luis Morales and Renan Moralesfrom Canarias Acro Team.
"The section of inclusive sport is led by people with functional diversity who, through the coordination between the organization of the event, pilots and volunteers, make their dream of being able to enjoy a two-seater paragliding flight come true, an experience that becomes unforgettable for them, and also for those of us who are behind and see their faces of satisfaction and those of their families", highlights the mayor of Disability, Macarena Hernandez (PP).