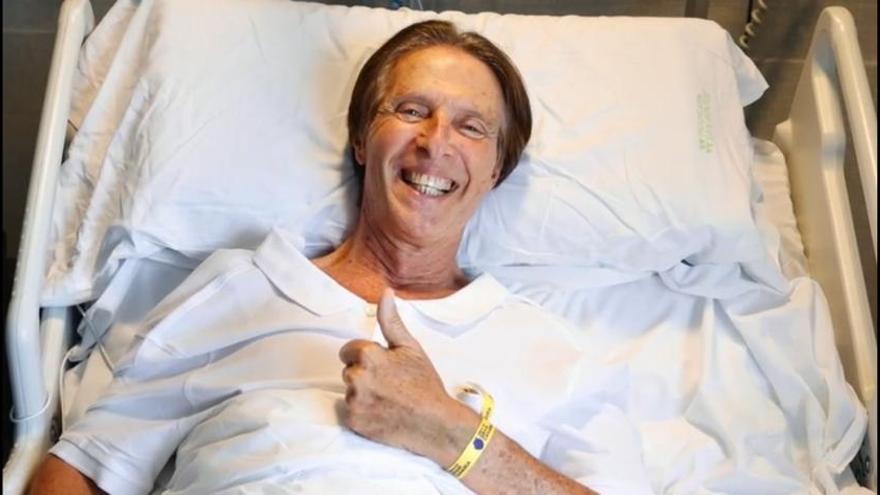 No campaign has been so divine and bizarre as the one carried out by the incomparable nardy barrios as a candidate for mayor of The Gran Canarian palms by Canarian Coalition-United in 2019 when at 70 years of age he paraglided over the city on the first day of the campaign to "see it from above", and in another of his outlandish ideas, with a vaporous red outfit and his shoes Manolo Blahnik, began to measure step by step the bike lane that the mayor Augusto Hidalgonow PSOE candidate to the Gran Canarian Cabildo, imposed on the Paseo de Chil despite the neighborhood complaints.
The current electoral campaign leaves images and anecdotes that, without being so striking, have had an impact on social networks and have even become trending topiclike the photograph in which you can see Carlos TarifePopular Party candidate for mayor of Santa Cruz de Tenerifein a sex shop, holding a rubber penis piggy bank, with two employees of the establishment.
But not only this image has gone viral: a Tik Tok of a boy on a street telde who shouts the name of the Ciuca candidate for the municipality, Juan Peña, carrying his sign, has received 105,000 views and, of course, Peña has taken the opportunity to make a Tik Tok with the young man and with others who have imitated him. So are the networks. Something more understandable is the success of the song recorded by 27 artists for Drago Verdes Canarias, with the motto do it for your land, with prominent Canarian singers such as Cruz Cafuné and Bejo. It already has 380,000 views.
The candidates have traveled kilometers, some more than others, and have had rough situations. Maria Fernandez, CC aspirant to the Presidency of the Council of Gran Canariahe broke his fibula in the pre-campaign, but, without a doubt, the most spectacular accident was carried out by his opponent for Unidos por Gran Canariathe pilot José Mari Ponce, who on May 5, a week before the start of the electoral campaign, at the Rally Canary Islands His vehicle ran out of brakes and collided with a wall, causing fractures to his clavicle, pelvis, several vertebrae, and ribs. From the hospital, where he still remains, he sent a video explaining to the voters that he could not go to vote.
Another curious anecdote has as its protagonists some t-shirts. Fernando Clavijo, CC candidate for the Presidency, he took to painting by hand the side stripes of white tennis shoes or t-shirts with the colors of the Canary Islands flag, his colors, wow. It is that, according to him, he is very "geek" for these things. And they were very successful, so much so that they held a raffle on Facebook for two pairs of t-shirts, with almost 1,700 comments on the networks, and a boy from Ancientin Fuerteventuraand a lady from La Laguna, who wanted them to surprise her husband, who was not having a good time because he was a JSP worker.
These are even endearing situations, like the one experienced by Pedro Quevedo, NC candidate for mayor of the palms from Gran Canaria, when he visited a center for the elderly in Lomo Apolinario and a lady called him: "Doctor Quevedo», and he was surprised because he hadn't worked as a doctor for years, and it turned out to be a lady who, when she was young, was employed in her father's photocopy shop and there Quevedo made reproductions when he practiced. And by the way, more than one voter on the street confuses Quevedo with the young singer from Gran Canaria. Maybe even he gives you votes.
There are all kinds of situations, even embarrassing, such as in a radio interview in which someone's shoe broke. Jimena DelgadoPP candidate for mayor of Las Palmas de Gran Canaria, and had to leave flipping. And others that, to define them in some way, cause astonishment, such as when Caroline Darias, also candidate for mayor for the PSOE, during a visit to hoya andrea he went into a supermarket to do the shopping while everyone was waiting, including the media, outside.
Reconciling family is precisely one of the issues that has given the most headaches to Noemi Santana, candidate for the Presidency of the Government for United Yes We Can – has a three-year-old son. In the campaign calendar he has a washing machine for today (day of reflection). It is the day to put the washing machines after two weeks of electoral hustle. Santana has made a lot of use of the wet wipes that he always carries in his bag for when his son Víctor has a mishap. Of pearls they came to him when, just before entering an act, precisely Víctor put his small hand full of chocolate on his white pants, leaving his "sweet footprint" there. With so much coming and going, the counselor has become an expert in Google Maps. Going to Tindaya, she was the co-pilot, she was indicating the way to the driver, at the same time that she managed the search for a venue for the rally with Pablo Iglesias and, in addition, she managed to paint her nails. By the way, the electoral propaganda that reaches the homes of Noemí Santana has been very curious: she does not carry an envelope and says in the text that "the envelopes are very expensive" and that they take them from other parties, while making a joke in reference to the fact that the PP "envelopes are very good at it." And for errors, in the propaganda that arrives at homes, Nicasio Galvan He presents himself as a Vox candidate for the Presidency of the «Parliament of the Canary Islands", instead of Government of the Canary Islands.
To the campaign van Angel Victor TorresPSOE candidate for the Presidency, they call it the cartoon. He has caught more than 40 planes in 15 days and holds up with overdose of coffee. His companions say that a man told him that he had done a great job and after so many difficulties he only needed to "get pregnant", and in the graceful he met a couple he himself married ten years ago.
And another candidate who has traveled the miles and starred in over 200 acts is Roman Rodriguez, NC-BC candidate for the Presidency, who with so much fatigue presented the candidate for Parliament for Tenerife in Tacoronte as a candidate for Gran Canaria. But they took it for granted. Luckily, he says, with his van they stop from time to time to eat "mulattoes" (a lifelong pole).