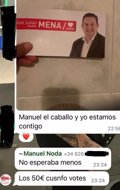 SANTA CRUZ DE TENERIFE, May 25. (EUROPE PRESS) –
The Canary Islands Coalition (CC), the Popular Party (PP) and Más por Arona have filed a complaint with the National Police on Thursday for an alleged purchase of votes in the municipality of Tenerife.
As reported in a note, the reported events stem from a conversation in a private WhatsApp group for sports activities in which one of the participants is currently a trusted position of the PSOE mayor, José Julián Mena.
As stated in the complaint -supported by a screenshot-, an interlocutor sends a photograph with an electoral envelope where the candidate is seen and the words José Julián Mena Alcalde accompanied by the following words: "Manuel, the horse and I we are with you".
After this publication, the current adviser to the mayor responds verbatim: "I did not expect less. The 50 euros cusnfo votes."
Once the candidates of the three political formations, Clara María Pérez (CC), Fátima Lemes (PP) and Dácil León (Más por Arona) know this information, "which violates the main democratic rules", they decide to inform the the pertinent authorities, who will be in charge of clarifying whether a possible crime could have been committed in this way of proceeding.