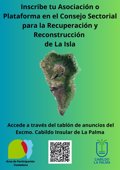 SANTA CRUZ DE TENERIFE, May 11. (EUROPE PRESS) –
The Cabildo de La Palma, through the Ministry of Citizen Participation, has opened the registration period in the Sectoral Council for the recovery and reconstruction of La Palma until June 1.
The Council will be made up of a broad representation of citizens, including neighborhood associations and platforms, the Animal Protection collective and the Environment, Electric and Renewable Energy, Sustainability and New Energy Model for the Canary Islands collective, as well as representation from the different economic sectors: one for the agricultural and livestock sector, and another for the fishing sector, as well as for the business sector and another for the hospitality industry, specifically, given the percentage of businesses affected by the volcanic eruption, there will also be a representative of the third sector.
The Ministry of Citizen Participation invites all those entities that wish to participate in this body, since cooperation and participation constitute active mechanisms of citizen participation of great importance for public administrations, as are the manifestations of the people affected. and/or interested in the creation and participation in this Regulation, including proposals to improve the economic, social, and cultural situation of the Island.
In the request that will be sent by the Cabildo de la Palma Electronic Office (https://sedeelectronica.cabildodelapalma.es/sta/CarpetaPubli…) will include the name of the designated person from each entity to form part of this Council. Each entity must designate a regular person and a substitute as spokespersons, duly registered in the association and/or platform they represent.