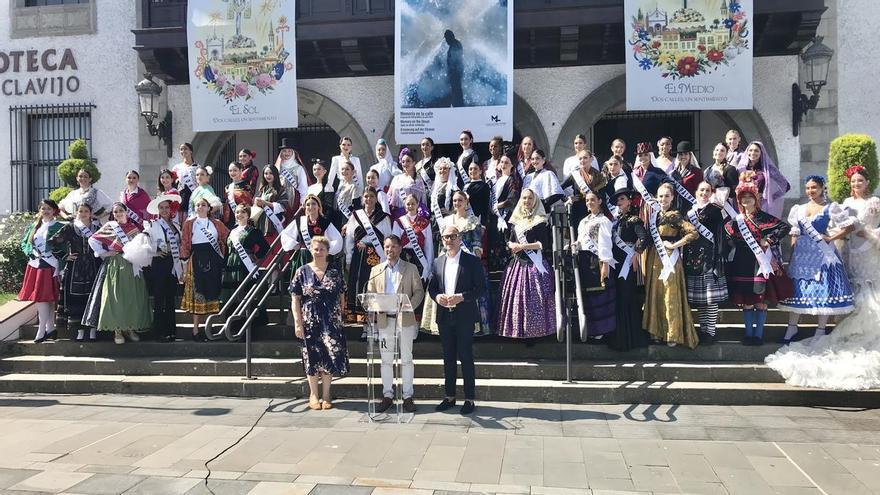 The Realejos prepares to celebrate this saturday may 6 the gala of Miss World Spain 2023a female contest of beauty, tradition and solidarity that brings together applicants from the 52 provinces and autonomous cities of the country. It will be from 9:00 p.m. Viera y Clavijo squarewithin the framework of May festivities and with free admission. The president of Nuestra Belleza España and organizer of the event, Elm Cresstresses that the value of the advertising impact generated by Miss World Spain in each edition "exceeds 3.5 million euros".
The royal mayor, Adolfo González (PP)offered an official reception to the 52 candidates at the City Hall and, later, participated in their official presentation, to which each of them attended with the typical costume of their province or city, from Las Palmas, Santa Cruz de Tenerife, Ceuta or Melilla to Seville, Madrid, Barcelona, ​​Ourense, Albacete or La Coruña, among others. The motto of the contest is "Beauty with a Purpose"Therefore, each candidate also champions a social project that will benefit from the promotion of Miss World Spain.
During the days prior to this presentation, the participants have had the opportunity to take guided excursions to different points of interest in The Realejosin addition to enjoying the celebrations of the May festivities or taste some typical dishes of the local gastronomy. Experiences that they have shared through their social networks and official channels in what, in the mayor's opinion, "represents an important promotion."
For Adolfo Gonzalez, «It is a luxury to have a national event of these characteristics in Los Realejos, with an external promotion and a media projection that will allow us to export and make our town and our May Festivals even more known. All the applicants will participate wearing typical costumes from their places of origin, which will also serve to demonstrate the richness of the traditions of each corner of the national territory, as well as to continue promoting the correct use of this type of clothing. This national contest will also serve to choose the next candidates for Miss World and Miss International.