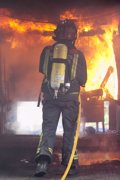 SANTA CRUZ DE TENERIFE, 26 Apr. (EUROPE PRESS) –
A total of four people have been affected after a fire broke out in a house in Santa Cruz de Tenerife, as reported by the Emergency and Security Coordination Center of 112 in the Canary Islands.
The events occurred at 04:54 this Wednesday on the third floor of a four-story building on Calle Cervantes in Santa Cruz de Tenerife, the place where members of the Tenerife Fire Consortium went to extinguish the fire that It affected almost the entire house, as well as other annexes, which were affected by the heat and smoke.
In this way, after extinguishing the fire, they ventilated the building and the personnel of the Canary Islands Emergency Service (SUC) assisted four people affected with poisoning from smoke inhalation, although a 47-year-old man had moderate poisoning Due to smoke inhalation, he was taken by ambulance to the Nuestra Señora de la Candelaria University Hospital.
Civil Protection personnel, as well as agents of the Local Police and the National Police who collaborated with emergency resources, also appeared at the scene of the incident.