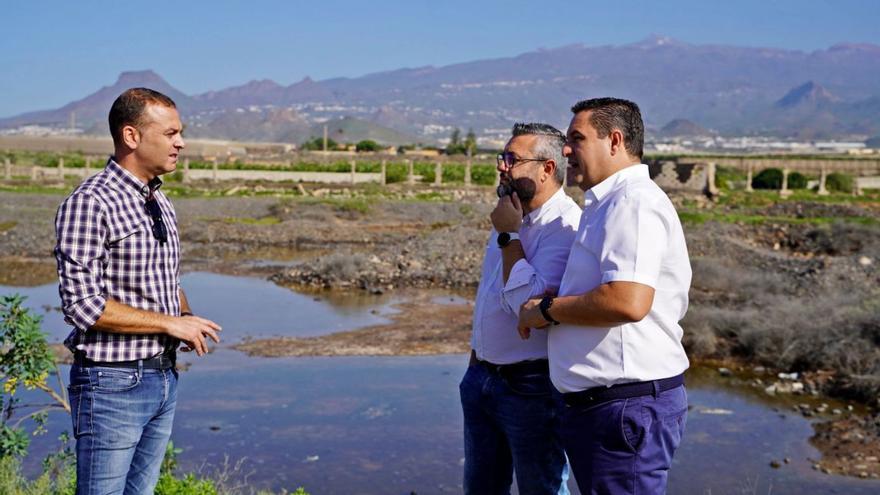 The mayor of Arona and socialist candidate for re-election, José Julián Mena, launches the process to undertake the Las Galletas beach regeneration. The purpose is to return this space to its previous state, for which it promotes the construction of a pedestrian promenade and preserve the intertidal pools of high environmental value typical of this enclave.
To this end, José Julián Mena held a meeting with the Deputy Minister for the Fight against Climate Change and Ecological Transition of the Government of the Canary IslandsMiguel Angel Perez. The mayor conveyed that the project of the PSOE de Arona goes through avoiding the application of "artificial solutions", mentioning in this regard the use of sand that is not typical of the area. In this sense, the Aronero socialists recall that the callao on the coast of Las Galletas is the one that gives its name to the town, according to one of the existing theories to which professionals give "greater historical rigor".
In this way, and once the regional Executive has assumed the powers in matters of Coasts, "what is intended is a regeneration of the coastline that takes into account that Las Galletas is one of the 47 points of the Islands considered as high risk due to the rise in sea level. With this premise, Mena argues that placing artificial sand on Las Galletas beach would not only be an inappropriate measure, "but it would go against scientific proposals in this regard, since it would be affected by the tides."
The essential
The Aronero socialists propose that the regeneration of the beach take into account the extension of the same, until reaching a point higher than the current road, a road that would have a new layout when it was moved. Another aspect that the PSOE of Arona defends in this initiative is the construction of a new pedestrian promenade at this relevant point on the municipality's coastline.
The PSOE candidate for re-election as mayor of Arona recalled that the execution of this project "would place Las Galletas at the forefront, since we would recover the coastwe would return the beach to its original state and we would avoid artificial solutions that would be constantly damaged by rising tides, as the Government of Canary Islands». José Julián Mena defends that "all this is possible with a proposal that is environmentally responsible and that would allow a leap in quality and modernization to the town, always respecting its hallmark."