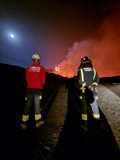 SANTA CRUZ DE TENERIFE, March 24 (EUROPA PRESS) –
The Consortium of Firefighters of Tenerife will distribute 450,000 euros to the Volunteer Firefighters of the island, of which 350,000 will be contributed by the Consortium itself and the remaining 100,000 by the Cabildo.
Specifically, the economic aid for the Association of Volunteer Firefighters of Adeje is 96,750 euros, for Guía de Isora it is 57,857.14 euros, for Güímar 45,642.86 euros, for La Laguna 65,250 euros, for Los Realejos 33,750 euros, for Santiago del Teide 63,000 euros, for Tegueste 36,000 euros and for Ycoden-Daute 51,750 euros.
These subsidies have been one of the points of the last plenary session of the Consortium for Prevention, Fire Extinction and Rescue of the Island of Tenerife that was held this week electronically.
These subsidies are granted to offset the expenses derived from the effective collaboration between the Volunteer Firefighters associations and the Consortium, details the Consortium in a note.
The aid will be made through a single form of payment and the associations have until January 31, 2024 to justify the expenses.
In addition, in this plenary session the bases that will govern the public call for the selection of the position of manager of the Consortium were also approved.
The plenary session was attended by the insular director of Security of the Cabildo de Tenerife and president of the Consortium, Rubén Fernández; the manager, José Vargas; representative of the General Directorate of Security and Emergencies of the Government of the Canary Islands, Marta Moreno and several representatives of the island's consistories together with the secretary and delegated controller of the Consortium and representatives of the personnel board.