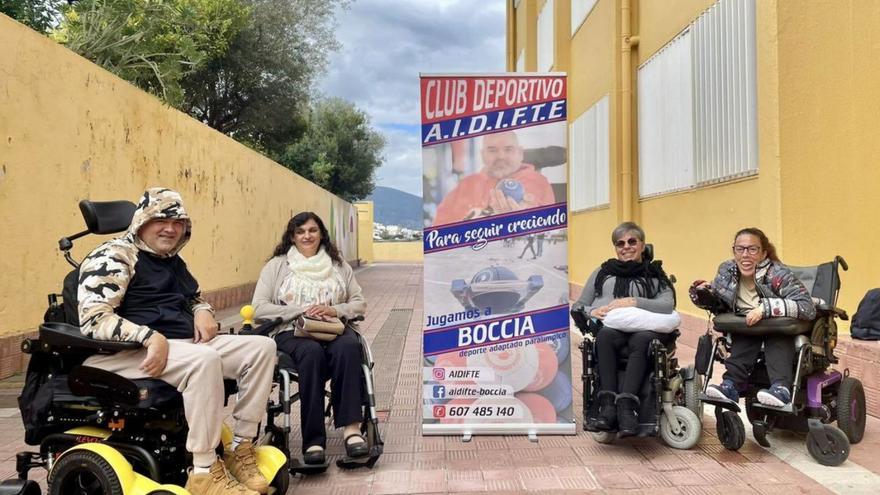 The Association for the Integration of the Physically Disabled in Tenerife (Aidifte) is the project of a group of friends who go around the world in a wheelchair and who share a home at the Care Center for People with Physical Disabilities (CAMF) in El Sauzal . A group that has found in boccia, a Paralympic sport similar to petanque, a shared hope, motivation and source of joy.
The Association for the Integration of the Physically Disabled in Tenerife (Aidifte) was created 18 years ago. It is a tiny, humble group, practically a group of friends who move around the world in a wheelchair and who share a home in the Care Center for People with Physical Disabilities (CAMF) of El Sauzal. David gonzalez, now deceased, made them discover boccia, a Paralympic adapted sport, similar to petanque, which in the last five years has become a shared hope, motivation and source of joy. Now they have succeeded in creating the first Paralympic boccia sports club in Canary Islands and there is no one to stop them. Because this is much more than a game.
Juan Jesús Escobar Méndez is the founder of Aidifte and the main promoter of the CD Aidifte Boccia. Ana Violeta Silva Pestana is the vice president. Together with the rest of their "wonderful" teammates and volunteers such as Jorge, Besay, Elena, Silvia and Ana, they have managed to launch a team made up of 11 players that allows them to dream big and has also inspired a similar initiative in Gran Canaria. One of his first projects will be, precisely, to meet with the boccia players from the neighboring island in a first regional meeting that they hope to celebrate in June in El Sauzal.
Now they are waiting to meet with the mayor of Sauzalero, Mariano Pérez (CC), who already collaborates with them through actions such as the transfer of the use of the space in La Pirámide every Saturday between 10:30 and 12:30. «If it had the pavement of a sports center, it would be the ideal space. It is covered, it is bright, it has adapted bathrooms, it is accessible and it is located very close to the center where we live", explains Ana Violeta. His next challenge is to hold that regional meeting in the Ravelo pavilion, which offers the ideal conditions. If this is not possible, they have thought of an alternative location in another municipality in the region.
To carry out this regional meeting, they need more volunteers, some sponsors and funds to cover the expensive transfers, which require taxis or adapted vehicles, and the purchase of more material, "which is not exactly cheap either," warns Ana Violeta. They already have some sponsorships that have allowed them to acquire part of the kit.
small leather balls
The first six cases of approved boccia material cost them five years ago "about 800 euros each." They are small leather balls, white, blue and red. In addition, they have two ramps to facilitate launching for people with limited mobility. They bought the material thanks to the help of La Caixa and now, when it is possible to get it at more affordable prices (about 300 euros), they would like to be able to renew and expand the resources available to train and compete in better conditions. His dream is to ensure that, based on training and competitions, some of its members can reach, why not, some Paralympic Games in the future.
The boccia playing field must have dimensions of 12.5 by 6 meters, in addition to a flat and smooth surface that allows the balls to slide without stumbling. Its purpose is to leave the balls as close as possible to the target, which is the white target ball. In La Pirámide de El Sauzal they have four marked fields, which allows them to play several simultaneous games. If the pavement were completely smooth, the installation would be ideal. But nothing would be possible without the role of the volunteers, who help to move and place the material, pick up the balls and help with the launches from the ramp. «They are authentic jewels and we are very grateful to them for sharing their time with us. They are wonderful", says Ana Violeta. "There are even volunteers who live off the island who continue to keep in touch with the group, I suppose because we are fun people," she explains proudly.
The training day is the most anticipated, entertaining and joyful day of the week for this group of people with physical disabilities who have found in boccia a way to enjoy, learn and share. They recently went to the Manuel González Pérez Secondary Education Institute (IES), in La Orotava, where they explained to students and teachers what boccia is. This exclusively Paralympic type of sport, designed for people with motor disabilities, severe physical disabilities, cerebral palsy and people in wheelchairs, which already has the first club founded in the Canary Islands in the municipality of El Sauzal.
An adapted and Paralympic sport
The official website of the Spanish Paralympic Committee (www.paralimpicos.es) explains that «boccia, whose origins go back to classical Greece, is a complex combination of tactics and skill. It is practiced individually, in pairs or in teams, on a rectangular court in which the players try to throw their balls as close as possible to the white ball that serves as the objective, while trying to move those of their rivals away. in a continuous exercise of tension and precision". In the competition, "each player, couple or team has six balls in each sleeve and the one whose ball ends up closest to the white one wins. In addition, you will receive an extra point for each additional ball that you have managed to get closer to the white one in front of the first one of the opponent. The individual and couples competitions consist of four heats, while the team competitions consist of six. Boccia was adapted to become a Paralympic sport in 1984. It is played by people in wheelchairs who have cerebral palsy, brain injury or severe physical disability, and who stand at one end of the field, from where they throw the balls, in some cases with the help of assistants (BC1 category) and a ramp (BC3).