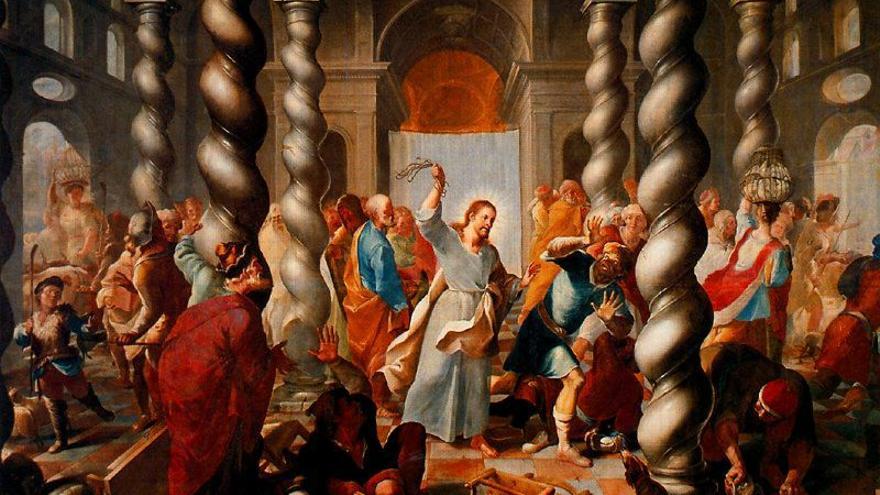 The painter Juan de Miranda (Las Palmas de Gran Canaria, 1723-Santa Cruz de Tenerife, 1805) began his career in the Baroque and ended up as a court painter for Carlos III in the midst of Neoclassicism. Despite the undeniable quality of his work, his figure has paled over time. Now, on the occasion of the tercentenary of his birth, various activities seek to vindicate his figure and his artistic achievements.
«The invisible must be made known and Juan de Miranda is an invisible artist on the Peninsula». These are the words of the curator of the Lázaro Galdiano Museum in Madrid, carmen epinosa, during the presentation yesterday, at the Casa de Colón, of the program of activities that will be carried out in 2023 and 2024 on the occasion of the tercentenary of the painter from Gran Canaria. «It is about giving visibility to the paintings of the 17th and 18th century, because not everything is Goya, Velázquez or Murillo, but there are countless interesting artists such as Juan de Miranda and here I vindicate his disciple Luis de la La Cruz y Ríos», added .
Espinosa made these statements in an act that was also attended by the Vice Minister of Culture and Cultural Heritage, Juan Márquez; the Minister of Culture of the Cabildo de Gran Canaria, Guacimara Medina; the Councilor for Culture and Cultural Heritage of the City Council of Santa Cruz de Tenerife, Gladis de León and the professor of Art History and curator of the exhibition Margarita Rodríguez. This tercentenary includes a retrospective exhibition under the title Juan de Miranda painted it. The journey of a Canarian artist between the Baroque and the Enlightenment that will be inaugurated in September at the Lázaro Galdiano Museum in Madrid, and later, between January and June 2024, it will be exhibited in various spaces such as the Instituto Canarias Cabrera Pinto in La Laguna, the Municipal Museum of Santa Cruz de Tenerife and the Casa de Colón. The Museum of Fine Arts of Tenerife provides two paintings: The expulsion of the merchants from the temple and Christ's entry into Jerusalem.
For the conservation and restoration of his works, the Canarian institutions contribute more than 100,000 euros. Other initiatives are also planned that aim to bring the figure of the artist closer to the new generations and that range from didactic proposals for schoolchildren to conferences for specialists, through training concerts Illustrated Affection or the creation of jewelry inspired by his paintings.
Margarita Rodríguez pointed out that Juan de Miranda was a painter "a product of his time, that is, immersed in a confessional society", so the theme of most of his paintings was determined by the religious commissions that the Church demanded of him so much as the private clientele, thanks to those who gained considerable prestige». He had the same fortune in the field of portraiture, in which, although with a less abundant catalogue, the quality of his brushwork can be observed. The title of the exhibition refers to his vital and artistic trajectory, personally marked by a continuous coming and going of his travels through the Canary Islands, North Africa, Levante and Andalusia. «His vital journey of him makes him pass from a conservative painting to a modern one» that will be consolidated when he travels through the Peninsula. And he highlighted that the plastic values ​​of Juan de Miranda go beyond that confessional society in which he lived, being important "the second and third shots and the vanishing point."
The exhibition will cover a spatial area, with an index of all its pictorial links and some rooms divided into the mute of the portrait, the public life of Jesus outside the religious "with a part about his childhood with quality treatment," he said, passionate paintings , and another room dedicated to the Immaculate Conception with its different proposals. «Juan de Miranda was part of the time of Carlos III, in which the illustrated painters will transmit us a different image in which the rational mentality prevails and not that verismo of the previous painting». Therefore "representing religious images from a distance is very typical of the eighteenth century."