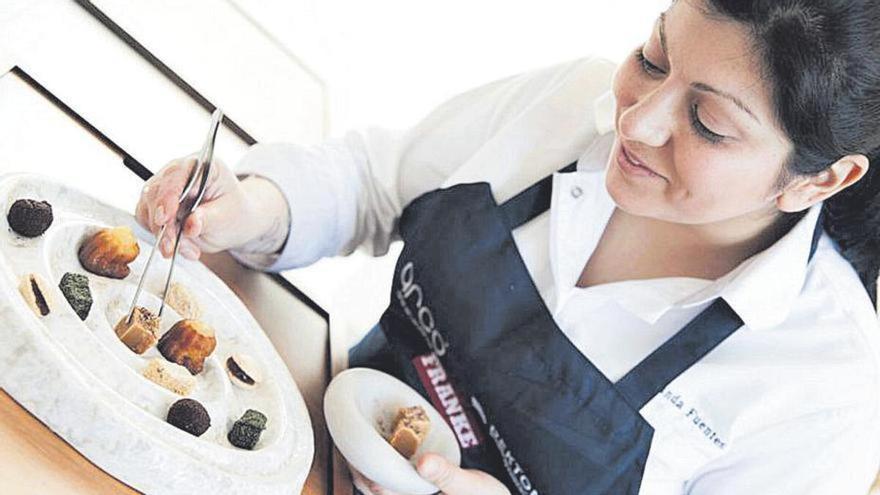 The gastronomy of the Canary Islands continues to be in luck. Specifically, they are two restaurants in Gran Canaria that have debuted with a sun in the Repsol Guide: "Bevir" and "Muxgo", located in Las Palmas de Gran Canaria.
In addition, three other Tenerife restaurants have also been included in the guide: "El Secreto de Chimiche" (Granadilla de Abona), "Kensei" (Adeje) and "Taste 1973" (Arona), while "Nub", in Costa Adeje, got two soles.
The only restaurant in the Canary Islands with three soles, "Rincón de Juan Carlos", in Los Gigantes (Tenerife), has revalidated the highest ratingwhich he first got in 2022.
With the new additions, Canary Islands adds 34 award-winning restaurants in the Repsol Guide: one with three suns, five with two and 28 with one.
In "Nub", the Italian chef Andrea Bernardi and the Chilean Fernanda Fuentes-Cárdenas have consolidated an elegant and mestizo gastronomic proposal, a search and rescue kitchen of its origins that builds bridges between America and Europe, the people in charge of the Guide point out.
They point out that "Bevir" has undergone "a notable transformation" with the recent changes that affect its location (now the Triana neighborhood) and the management of the dining room and kitchen, now entrusted to José Luis Espino.
After leaving "Texeda" behind at the summit of Gran Canaria, Borja Marrero "maintains sustainability as his flagship and his everlasting passion for self-production" at "Muxgo", a restaurant located on the roof of the "Catalina Plaza" hotel, in La Palmas, they point.
The small building that once housed the Chimiche tomato packing plant, right on the road that crosses the Abona midlands, is now the restaurant "El Secreto de Chimiche", whose quality "has ceased to be an open secret", with Diana Marcelino in charge of the kitchen and Roberto Castro, as head of the room and sommelier, explained those responsible for the Repsol Guide.
Víctor Planas was a trusted man of Ricardo Sanz and regional executive chef in the original Kabuki Group "before deciding to fly free" and open "Kensei" at the Bahía del Duque hotel, a restaurant focused on contemporary Japanese cuisine, they highlight.
From "Taste 1973", they emphasize that it is "a pleasant and tasty showcase of the eating habits, tools and customs of the Canarian aborigines", with the Argentine chef Diego Schattenhofer in charge of the kitchen.
Right now, 713 restaurants make up the universe of soles Repsol Guide 2023: 43 with three, 164 with two and 506 with one, in addition to the 1,269 recommended.
By autonomous communities, Catalonia (105), Community of Madrid (98), Basque Country (68), Andalusia (66), Valencian Community (58) and Castilla y León (58) are the regions where the most suns shine.
List
Here is the complete list of the novelties of the Repsol Guide 2023 in the categories three, two and one sun:
Three Repsol suns
Corral de la Moreria (Madrid)
Maralba (Almansa, Albacete)
Two Repsol suns
Ambivium (Peñapiel, Valladolid)
Amelia (San Sebastian)
BO.TIC ​​(Corçà, Girona)
Castell Peralada (Peralada, Girona)
Consented (Salamanca)
Deesa (Madrid)
The Lake (Marbella, Malaga)
Garena (Dima, Vizcaya)
Hika by Roberto Ruiz (Villabona, Guipúzcoa)
Mantua (Jerez de la Frontera, Cádiz)
Montia (San Lorenzo de El Escorial, Madrid)
Nub (Costa Adeje, Tenerife)
The English Way (Ferrol, La Coruña)
Oba (Casas-Ibáñez, Albacete)
Rekondo (San Sebastian)
O'Pazo (Padron, La Coruña)
Umiko (Madrid)
Voro (Capdepera, Majorca)
A Repsol sun
-Andalusia
The Ensign (Vejer de la Frontera, Cádiz)
Meson Sabor Andaluz (Alcalá del Valle, Cádiz)
Kàran Bistró (Pozoblanco, Córdoba)
I recommend (Córdoba)
Radis (Jaen)
Vandelvira (Baeza, Jaén)
The Mile (Marbella, Malaga)
12 Tapas (Castilleja de la Cuesta, Seville).
Lalola (Seville)
-Aragon
Arcas House (Villanova, Huesca).
Racking (Barbastro, Huesca).
The Solfa Factory (Beceite, Teruel)
Goralai (Zaragoza)
–Canary Islands
Bevir (Las Palmas de Gran Canaria)
Muxgo (Las Palmas de Gran Canaria)
The secret of Chimiche (Granadilla de Abona, Tenerife)
Kensei (Costa Adeje, Tenerife)
Taste 1973 (Arona, Tenerife).
-Cantabria
The post office (Cartes, Cantabria)
-Castilla la Mancha
The Quevedo Preserve (Juan Abad Tower, Ciudad Real).
Hanging Houses (Cuenca)
-Castile and Leon
Cobo Evolution (Burgos)
Kamin (Leon)
Pacheco House (Neighbors, Salamanca)
Samantha Vallejo-Nágera Tavern House (Pedraza, Segovia)
Essentia (Tarancon, Cuenca)
-Catalonia
Enigma (Barcelona)
Elena Farm (Barcelona)
Pur (Barcelona)
Slow & Low (Barcelona).
Aleía (Barcelona)
Atempo (Barcelona)
Eat (Barcelona)
Er Estrangèr (Betren, Lleida)
Quatre Molins (Cornudella de Montsant, Tarragona)
MADRID'S COMMUNITY
Share Bistro (Madrid)
Since 1911 (Madrid)
Wool (Madrid)
The house of Manolo Franco (Valdemorillo)
La Trasiega (Getafe)
RavioXO (Madrid)
Thirteen (Madrid)
Garcia de La Navarra Winery (Madrid)
Zuara Sushi (Madrid)
-Navarre
Baserriberri (Pamplona)
Carlos Oyarbide Bistronomico (San Adrián)
Les Amis (Pamplona)
-Valencian Community
Bernardi House (Benissa, Alicante)
Space Montoro (Alicante)
Home of the fisherman (Villajoyosa, Alicante)
Lula by Aurora Torres (Los Montesinos, Alicante).
Iron (Valencia)
Fraula (Valencia)
Nozomi Sushi Bar (Valencia)
Samsha (Valencia)
Lure (Valencia)
Tavella (Valencia)
-Basque Country
Erro (Atxondo, Vizcaya)
Kuma (Bilbao)
Tamarises (Getxo, Vizcaya)
Oteiza Space (San Sebastian)
Hamarratz (Zumaia, Guipúzcoa)
Laia Erretegia (Hondarribia, Guipúzcoa)
Zazpi STM (San Sebastian)
-Estremadura
Wild olive (Zafra, Badajoz)
Mandukar (Villanueva de la Serena, Badajoz)
Versatile (Zarza de Granadilla, Cáceres)
-Galicia
Omakase (A Coruña)
Terra (Fisterra, A Coruña)
-Balearics
Re.Art (Ibiza)
The view (Sant Josep de sa Talaia, Ibiza)
Can Simoneta (Capdepera, Majorca)
-The Rioja
The laurel inn (Préjano)
-Asturias
Farragua (Gijon)
Married Kitchen (Hontoria)
Meson El Centro (Puerto de Vega)
Pedro Martino (Caces)
Yume (Aviles)
-Murcia
Sheep (Bullas)
The Mosqui (Cape of Palos)
Phrases (Murcia)