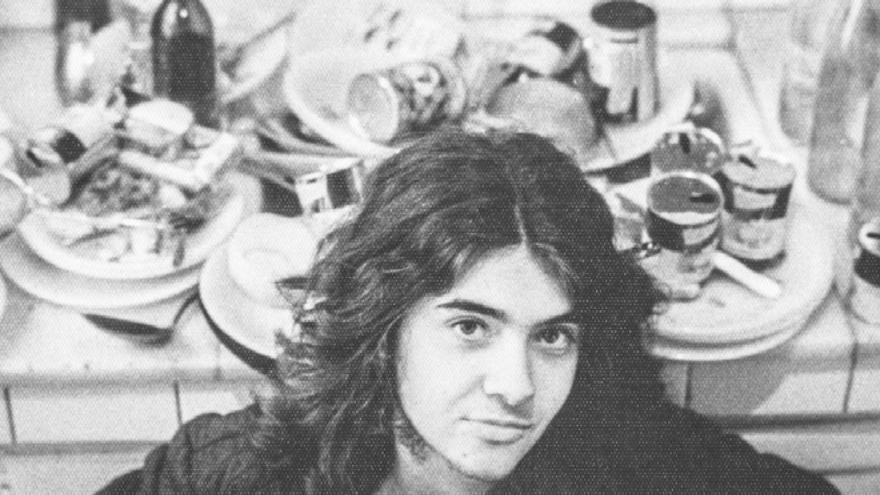 "You should know that sometimes / I'm like an endless burial," he wrote. Félix Francisco Casanova (Santa Cruz de La Palma, 1956 – Santa Cruz de Tenerife, 1976) in his poem You are a good time to die, dated December 14, 1975. Just a month later, without having added a single line and when he had not turned 20, he died of suffocation, due to a gas leak, while taking a shower in the bathroom of his house. These signs, as of premonitions of his death passed through water -the smoke on the water that marked the time-, fueled speculation about the idea of ​​suicide, and, in general, the hidden and legendary face of who next Tuesday will star the day of letters Canary Islands-2023.
«I am getting closer to the water», he pointed out, for example, a few months before, in his diary, I would have or would have loved, discovered and published after the fateful and vaporous episode, and in which he would also mysteriously write: « In Syndromes, more than water there is blood ». He alluded to the series headed by that name in his latest collection of poems, La memoria olvidada, equally posthumously published and loaded with mortuary references.
generational emblem
The publication of his Complete works (Demipage, 2017), in a careful volume of more than 700 pages, he finished reactivating the myth of who has been cataloged as the Spanish Rimbaud. In the prologue, Fernando Aramburu describes him as "a boy with a handsome face and unusual creative capacity, of enormous and at the same time disturbing talent, who seems to veil an enigma in everything he says or does", and who, because of his death , premature and "in circumstances not entirely clarified, it is almost destined to give birth to some kind of legend." That death, never resolved between the domestic and the legendary, was the perfect epilogue to his vast and early work.written between the ages of 14 and 19, endowed with a strange, dark maturity, and endorsed by important awards from the Islands, enough to make Félix Francisco Casanova Martín an unusual generational emblem.
His short life does not lend itself, of course, to a lesser fable than that vaporous tiled niche. Son of the doctor and postista poet Félix Casanova de Ayala (1915-1990) and of the pianist Concepción Martín Díaz (193-1972), a very beautiful woman from the La Palma bourgeoisie (who was 20 years older than Félix Francisco, by the way, the same age difference as her husband), some of the commentators of her legend do not miss the importance of the equally premature death of her mother – when he was barely 14 years old, and he devoted himself vehemently to writing – and the subsequent turn, more than affective, of that father-poet, older and widower on his son, the adolescent artist, or Dylan Thomas, the "artist-cub". In addition to professing adoration for his "person marked by the genius of his poetry" -writes Casanova de Ayala in the prologue to the anthology La memoria olvidada (Hiperión, 1990), which was also posthumous for himself-, and a tireless teacher encouraging, father and son are co-authors of the collection of poems Cuello de botella, included in the Complete Works.
Debate
His work, begun, strictly speaking, with The GreenHouse (for which he won the Julio Tovar prize at the age of 17, and which made him renege on his five previous books) is certainly difficult to classify. His culturalism does not avoid a certain – so to speak – "dirty surrealism", which combines avant-garde elements with shreds of rock and folk music, also halfway between a certain symbolic expressionism and resonances from the Beat generation.
Antonio Jiménez Paz, also a poet from La Palma, does not rule out the idea of ​​Félix Francisco's suicide. «I do not believe that his death in the bathtub was random; corresponds to that dark, esoteric dimension of his personality, which led him to practice strange rites, such as constantly talking on the phone, he did not stop doing it in the era of fixed devices, or taking those more than prolonged baths, "explained the author of distance journal. «I neither affirm nor rule it out. I know he is a event ambiguous, but, after all, irrelevant, since the important thing is to recover that dark, non-transferable dimension that lay behind his apparent sociability. There is a Luddism and a spontaneity, in his writing and in his figure, which is an uncompromising synthesis of his personality ».
Good humor
On the contrary, the writer and professor Juan Manuel García Ramos, editor of the aforementioned posthumous works by Casanova Martín, the daily I would have or would have loved and the forgotten memoryin Liminar, flatly dismisses the possibility of suicide. "I was in that bathroom the next day, and I can assure you that it was an accident due to the terrible state of the facility," says the author of El delatado, who defines the poetry of Félix Francisco as "an exceptional chapter of Spanish poetry: represents a convulsion of exotic maturity.
The image of a jovial and vitalist boy, who "did not correspond at all with the romantic legend that is attributed to him", is the one highlighted by Ángel Mollá, professor of Aesthetics at the University of La Laguna, a close friend of the poet since childhood. , and that she was with him the night before what she no doubt considers "an accident." "He always exuded good humor and it is true that he was attracted to tormented people and tragic situations, but strictly as literary material," says Mollá, who composed with him, among other texts, the Hovno Manifesto [palabra que en checo significa «mierda»]included in the appendix of the Complete works. «She was a happy, balanced person, who still observed life from the sidelines. Someone perfectly normal, plus a prodigious, torrential talent, to build images », she defines.
Genius
In the prologue, the author of Homeland He expresses: "The myth does not seem harmful to me, as long as it does not eclipse the essential, which in this case is the literary work of a genius." In that conditioning factor of always and when he repaired more grimly, for the insular area, the poet Manuel Padorno. In the company of his wife, Josefina Betancor, he was a pioneer in publishing in Madrid -in Taller de Ediciones JB-, his most emblematic works: the novel Vorace's Gift (1975), winner of the Benito Pérez Armas the previous year, and her penultimate collection of poems, A suitcase full of leaves (1977), which appeared exactly one year before and one year after the death of Félix Francisco, and, still several decades later, the author of For greater glory he kept alerting: «What is unfortunate is that, in the poor critical circumstances of the Canary Islands, the halo of his young death may have more significance than the actual reading of texts». Well, apply the count, Canary Letters Day.