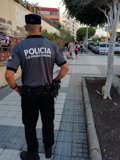 SANTA CRUZ DE TENERIFE, 9 Feb. (EUROPA PRESS) –
Members of the Minors and Family Operational Unit of the General Corps of the Canary Islands Police have arrested a man this Wednesday in Tenerife, with no police record, for being allegedly responsible for a crime of sexual assault on minors under 16 years of age, in its modality of dupe.
The police investigation began as a result of complaints filed last January by four parents of minor girls between the ages of 13 and 15.
The content of the complaints alluded to contacts that the man had with the girls through social networks or instant messaging applications, using his condition as physical monitor of the minors in a school on the island.
The investigated, in order to create a climate of sexual themes, contacted the minors, all school students, outside school hours, through social networks and instant messaging applications –Instagram and Whatsapp–, reports the Police Canary.
Thus, after initiating and interrogating them on sexual issues, he tried to convince them to send him intimate photos.
After obtaining sufficient evidence, the investigators consider that the man carried out preparatory acts of the criminal type of child pornography, which were not carried out due to the refusal of the minors to send said material in some cases or due to the discovery by the parents. of such conversations, in others.
The Police detail that the initial strategy of the detainee was to approach the minors, to then carry out acts typical of a crime of child pornography by sending sexualized or pornographic images.
Taking into account the number of victims who have filed a complaint, it was agreed to arrest them and subsequently make them available to the judicial authority, together with the pertinent actions.