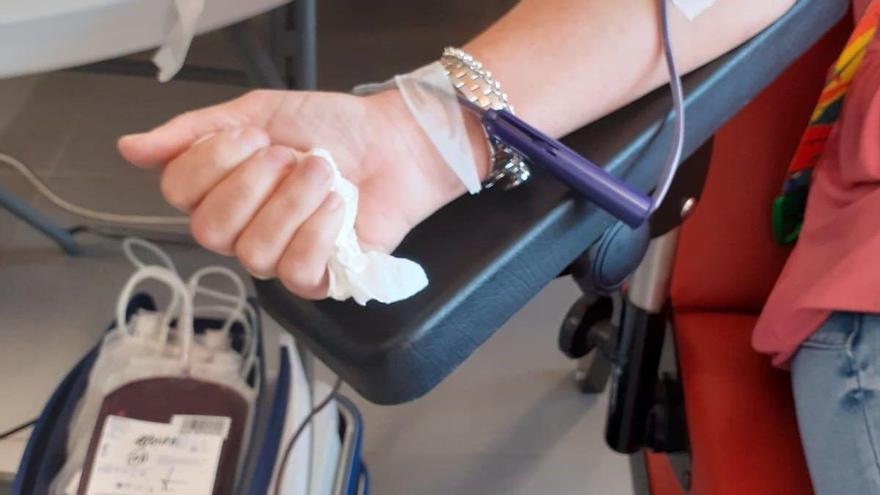 The City Council of La Laguna and the Canarian Institute of Hemodonation and Hemotherapy (ICHH) have launched the project Committed to life, donate bloodan initiative that establishes a permanent solidarity circuit, with fixed spaces in the six districts of La Laguna, for the location of the ICHH mobile blood donation units and the reinforcement of information through fixed signage and different formats to invite the population to donate blood.
Yesterday the installation of this vertical signaling began in the different points of the municipality. Each sign has a QR code that provides information on blood donation and the different campaigns carried out by the ICHH. The mayor of La Laguna, Luis Yeray Gutierrezremember that with the establishment of these points there is "compliance with the motion that I presented to the plenary last October, and that was approved unanimously, to create a permanent donation circuit in all the districts of the municipality and convert La Laguna in a city in solidarity with blood donation.
Gutiérrez maintains that «La Laguna has all the conditions to lead blood donation campaigns in Canary Islandsby number of inhabitants, by social conscience of the population, by the presence in our municipality of one of the reference hospitals of the Archipelago and because we are a young city in which the university population has a very important weight".
For her part, the president of the ICHH, María Teresa Gutiérrez, wanted to "publicly thank the commitment that has been made by the La Laguna City Council, and in particular by its mayor, to carry out this project that will help us to visualize the blood donation not only in the town of La Laguna but in all the districts of the municipality". She also states that "it is a pioneering action that will encourage other public institutions to commit to blood donation and give it greater visibility."
More in detail, the permanent solidarity circuit of the project Committed to life, donate blood will have fixed spaces for ICHH mobile units in Las Mercedes, Valle de Guerra, Tejina, Bajamar, Punta del Hidalgo, Guamasa, Taco, San Jerónimo, Los Majuelos, Finca España, La Higuerita, Guajara, Princesa Yballa, La Candelaria, San Benito, downtown (Heraclio Sánchez street) and in the historic center. The City Council specifies that the planned points within the historic center will be placed later, since they must be subject to the regulations of the area declared a World Heritage Site by Unesco.