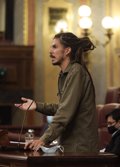 SANTA CRUZ DE TENERIFE, 3 Feb. (EUROPA PRESS) –
Proyecto Drago, Equo, Ahora Canarias and Canarias Verde have sealed an electoral confluence this Friday for the regional and municipal elections on May 28 with a "confederal vision" within a framework of "Canarian obedience" and "scrupulous respect" to the different territorial realities, needs and insular visions and with a marked municipalist character.
In addition, they have "feminist and equality policies" as their axis and make it clear that a confederal candidacy will be formed "without accepting cross vetoes of any kind" and prioritizing "the best horizontal work teams, without quotas."
The signatories leave open the incorporation of other organizations and groups into the coalition and propose including in the programmatic agreements an "unquestionable commitment" in favor of
environmental sustainability, social justice and the management of energy sovereignty with the development of an energy model that democratizes renewable resources in a fair manner. "Renewable energies produced in the Canary Islands for its people," the joint statement states.
They also propose incorporating into the programmatic agreements an "unquestionable commitment" in the defense of sustainability, participatory democracy and Human Rights, betting decisively on a "positive political and economic change for the Canary Island country", promoting the recovery of food sovereignty, control of demographic overload, development of a neutrality statute, management of territorial waters and development of a Canarian labor relations framework as an evolution towards a diversified economic, tourist, productive and industrial model .
Along these lines, they indicate that they will put the defense of biodiversity as a productive element "in the center" with the strengthening of the circular economy.
The joint manifesto also details promoting "the self-referenced and proud Canarian culture", betting on a "broad" social, political and electoral space that requires, at least, the defense of the territory and the people who live in it, the respect for the diverse realities of the eight islands and the sovereign decision-making capacity.
They also propose the fight against "insular caciquismo" in the archipelago and the non-participation of people or elected officials in governments that include representatives of insular caciquismo, while demanding the participation of civil society in the different programmatic commitments.