The mayor of Granadilla, José Domingo Regalado, and the parish priest Jesús Pérez Báez paid tribute this Friday to the 24 fatalities in the greatest tragedy in the history of this municipality of Tierra del Fuegothat of the old San Francisco barracks, which is 60 years old.
According to the official chronicler of the municipality, Emiliano Guillén Rodríguez, it was 2:35 p.m. on Sunday, February 3, 1963, when the town of Granadilla suffered the worst catastrophe in its history, not only due to the large number of victims but also due to the circumstances in which they perished
A large number of people had gathered in the old facilities of the old San Francisco barracks to obtain their identity cards, because a team from the Ministry of the Interior had traveled to the municipality.
At that time it was raining and hailing heavily and many passers-by took refuge in the premises. It is estimated that some 1,300 people were inside the long-lived mansion at the time that part of the upper corridor of the cloister gave way, precisely where the dispatch tables were installed.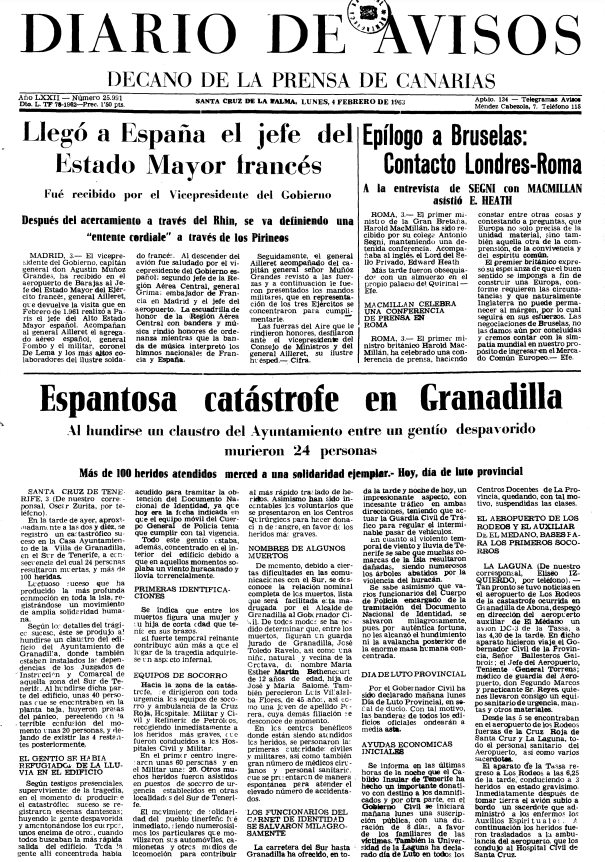 The noise of the materials and people that fell into the interior patio on the congregants unleashed panic among those present.
Most of the victims died from suffocation and crushing around the landing of the stairs that gave access to the street. The wounded exceeded one hundred.
To honor the victims, the mayor and the parish priest of Granadilla have dedicated a few words of remembrance in the courtyard of the old Franciscan convent, where a bouquet of flowers and 24 candles have been placed for each of the deceased along with the plaque marble with the names of all of them.