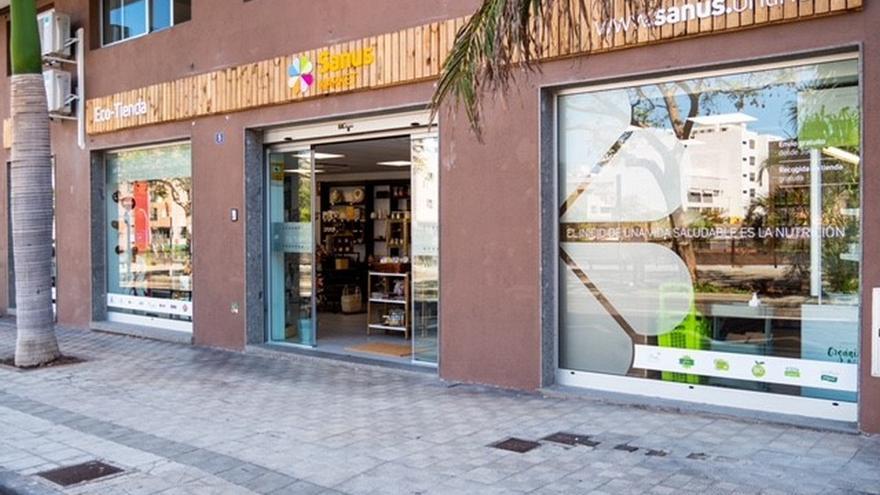 Eating healthy, fresh, local and in a trusted store is now possible in the Canary Islands, where those interested in healthy nutrition and responsible consumption have Sanus Market as an ally. Is organic shop in Tenerife It has more than 6,000 products from 150 brands, a physical and online store, home delivery in Santa Cruz of Tenerife of fresh and refrigerated products in the metropolitan area and of non-refrigerated products to all the islands in 24 or 48 hours.
Filling the shopping cart in one click is possible, with healthy, natural and organic products of the highest quality and a wide range of food, fresh fruit and vegetables locally produced, organic bread, artisan pastries, vegan products, supplementation, aromatherapy, home and decoration.
The organic store Sanus Market was born with the aim of positioning itself as a trusted store where to buy physically and online, with all the comforts and with the guarantee of a fresh and local product. This Canarian company buys directly from certified organic farmers, local and at a fair price.
Supporting local businesses is everyone's responsibility, and now it is closer than ever with this grocery store. The vast majority of Sanus Market's fresh products are from km0that is, they are produced less than 20 kilometers from the point of sale, reducing greenhouse gas emissions, promoting sustainability and supporting the local supplier.
facilitate a healthy and balanced diet and responsible consumption were the pillars from which Sanus Market was built in January 2020 and who is already trusted by customers from all over the islands. Although they were born as Online storethe great reception of the project led Sanus Market to raise the blind of its physical store on Goya street in May 2022, a leap with which this company consolidates its roots and continues to grow and expand its offer and customer service.
Is organic shop in Santa Cruz de Tenerife It is already a market leader in delivering fresh and refrigerated products at home to the entire metropolitan area, which is added to online purchases with shipments in 24 or 48 hours to any point in the Canary Islands.
Customer service, variety, the best prices and comfort for the customer are the axes that move a company that does not stop growing and that in its trajectory has already managed to establish itself as the best online organic store.
If it is cultivated, bought, stored, transported and eaten in the Canaries, wealth also remains on the islands in a boost to the circular economy, in profit and prosperity for his people. Most of the Sanus Market products are produced in organic farms from Tegueste, Valle de Guerra and Tacoronte, and are stored in the Canary Islands, which allows us to offer a very agile delivery time. With all the guarantees both in data management and in payments, Sanus Market offers a comfortable purchase through secure payment platforms Redsys and Paypal.
Enjoy the organic fruit Without having to leave home, being able to buy avocados, lemons, papayas, bananas, or loaves of sourdough bread from your mobile was unthinkable a few years ago, today a reality thanks to Sanus Market. The organic food They have more flavor, do not contain chemicals, reduce the risk of allergies, eliminate harmful pesticides and antibiotics that affect the immune system, reduce the risk suffering from obesity, suffering from neurological and reproductive disorders and there are even studies that ensure that it is a way of prevent cancer. Healthy and natural nutrition has shown that it is the only sustainable way to live healthier, take care of the environment, help the circular economyto contribute to the fight against climate changeand to enrich ourselves with all the properties that food has.
Zero kilometer food store
Upon how to eat healthier answers Sanus Market, which already has the trust of customers throughout the archipelago. In addition to offering a healthy diet, the consumption of products Zero kilometer of organic production it reduces water and air pollution, and is an investment in the future to reverse the greenhouse effect and achieve greater energy efficiency.
Help improve the quality of life of people, through a nutrition healthy and the responsible consumption It is the challenge that this Canarian company set itself just three years ago, which makes a selection of brands committed to natural health care and the preservation of the environment to offer the best to its customers. Sanus Market prioritizes nearby farmers and producers. , because what we eat is food for the body, but also for the mind and soul, three elements connected with a balanced and healthy dietwhich is the first step to a healthy life.
Being well is a state of mind, it is the wick that ignites a positive attitude and balance, and for this reason Sanus Market sells fruits, seasonal organic vegetables and healthy products in the Canary Islands, natural and organic of the highest quality, with the variety that nature offers and the most innovative scientific advances. The offer of Sanus Market in organic products It is the largest in the Canary Islands with a number of references and brands unmatched in the archipelago for natural health care.
Besides the organic store Goya street, and the online food store, Sanus Market goes further, also growing in its digital markets throughout the Canary Islands, Sanus Online which delves into the importance of personal health, and the most natural and environmentally friendly lifestyles.