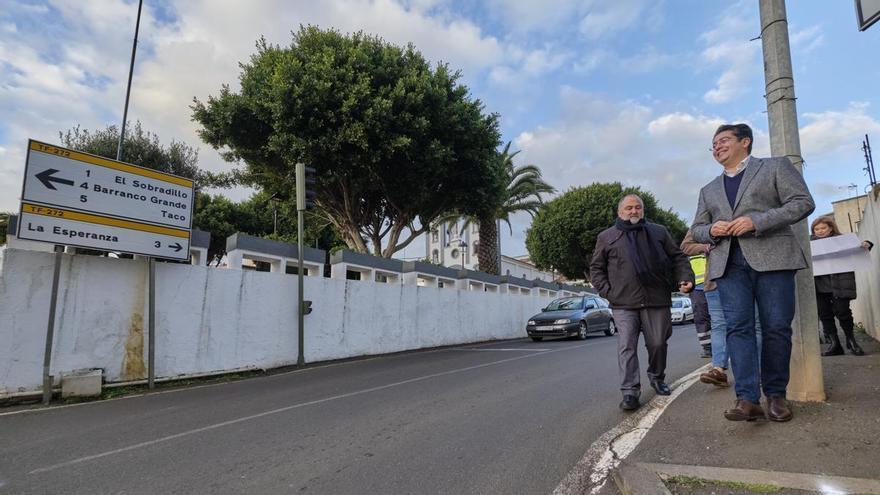 The sanitation improvement works in the nuclei of La Esperanza and Llano del Moro begin tomorrow, Friday 27 January 2023 with an investment of €1,090,000 for the first phase. The Island Council of Tenerife contributes 90 percent of the cost of the work and the El Rosario City Council, the remaining 10 percent. Its execution period is 11 months.
The president of the Island Council, Peter Martinannounced today that "the works in this first phase will include a stretch of just over two kilometres, from La Esperanza to the area of ​​Llano del Moro, to continue, later, with a second intervention, also from the TF-272 towards the Las Lagunetas junction. This second stage will increase investment in The rosary to more than 2.8 million euros". In his opinion, "it is about a very important and indispensable work for sanitation in El Rosario».
The second part of the project will raise the investment above 2.8 million euros
Martín made these statements during a visit he made to the area together with the mayor, scholastic gilwho remarked that "until now, actions had been taken in El Rosario in the upper part of La Esperanza, from the TF-24 up, and now it's going to work on the bottom. This work, together with the one that is already being developed in Peeled loin, with an investment of 3.5 million euros, will mean a great step in sanitation in the population centers of this part of the municipality. For the municipal councilor, "the second phase of the project will allow us to continue with this work of improvement, which, without a doubt, will mean a great advance in terms of sanitation."
The Minister of Municipal Cooperation and Housing, Zebenzui Chinea, clarified that this first stage of the works is included in the Municipal Cooperation Island Plan 2018-2021, and consists of the installation of the drainage network collector along the section of the TF-272 island highway and on the street Pine Jump. The project foresees "a tertiary network with home connection boxes for the houses of the adjoining urban centers". The second phase is part of the 2022-2025 Cooperation Plan.