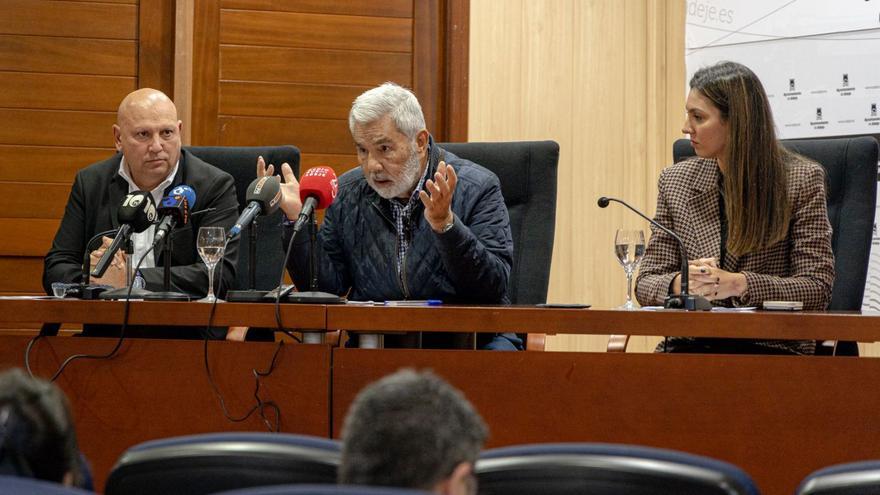 Costa Adeje will be present next week in Madrid at the Fitur (tourism) and Madrid Fusión (gastronomy) fairs with the aim of continuing to boost the destination with new sustainable and quality products. The mayor of Adeje, José Miguel Rodríguez Fraga, assures that his municipality goes to these fairs "with very clear ideas: the commitment to quality and excellence, which are inalienable." "We have to continue revitalizing the municipality with new products, following strategic lines that have to do with social sustainability, the environment and the digital transition," he explained.
The mayor was accompanied in the presentation of the strategies for Fitur and Madrid Fusión by the Councilor for Tourism, Adolfo Alonso Ferrera, the Councilor for Economic Development, Raquel Rodríguez Alonso, as well as by representatives of the three Michelin-starred restaurants in the municipality: Nub (one star), El Rincón de Juan Carlos (two stars) and San-Hô (one star). Businessmen from the gastronomy sector were also present, accompanied by Pablo Pastor, president of Acyre Canary Islands and collaborator of the Adeje City Council.
In recent years, Costa Adeje has made progress in the strategy of integrating tourism with the local population "so that there is feedback from both that benefits both". Fraga added: "I have no greater interest in tourism than offering greater opportunities to the people who live here. Tourism makes it possible for us to provide better services to our local population, for there to be a permeabilization of wealth and on the other hand, our population contributes our hallmarks and gives authenticity to the tourist experience", he qualified.
In addition to private investment, the City Council assured that in 2022 it made the "largest investment in infrastructure and improvement of services in its entire history." «We have created a network of sports and cultural infrastructures that give it added value. Many professional athletes, teams and clubs come to Costa Adeje to train, firstly because of the weather but without a doubt if we did not have adequate sports equipment they would choose another destination", pointed out the Councilor for Tourism. To these figures must be added the 300,000 euros invested in cultural tourism with activities such as the Tenerife Fashion Beach, the Symphonic concert or the folkloric Mayántigo.