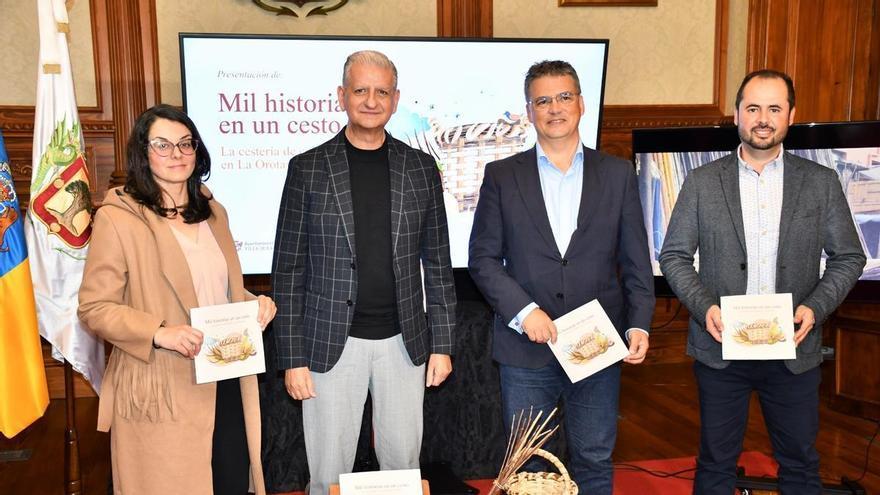 the tradition of chestnut basketryhistorically deeply rooted in nuclei such as Florida or Pinolereenters the classrooms of the schools of the orotava thanks to a didactic unit that will show students the origin of the creation of the containers; basketry in the world and in the municipality; the process of turning a chestnut tree into a basket, with all the detailed steps; the parts of these work pieces and craftsor its different types.
A thousand stories in one basket is the title of this didactic unit, elaborated by Yaiza González Hernández (Cultania). Some 1,000 copies have been published, but it can also be downloaded through the website of the town councilwhere it will be accessible to all teachers of Canary Islands interested in teaching this type of Canarian content in their classes. In addition, it is completed with a short documentary showing the entire process of making a chestnut basket. The guide is initially aimed at students between the ages of 10 and 12, "although it can be adapted to many other ages" due to its didactic content, its illustrations and its simple language, as he explained. Yaiza Gonzalez.
This initiative, promoted by the Town Hall of La Orotavahas also had the support of the Council of Tenerife. For the Councilor for Agriculture and Livestock, Alexis Pacheco (CC)this didactic material also highlights the importance of the cultivation of the chestnut tree, "which in La Orotava occupies 252 hectares", and will contribute to "make known and recover an artisan activity" that gave prestige to the municipality for decades.
The Island Councilor for Agriculture, Javier Parrilla (PSOE)He added that this project meets the objectives of protecting chestnut cultivation and the agricultural landscape and of rescuing traditions and trades such as basketry. In his opinion, it is "excellent material that should reach all schools on the island".
The village mayor, Francisco Linares (CC)highlighted that this didactic unit allows addressing issues that are not addressed in schools and that are "living history of our ancestors". She framed it in the continuity of a work that has been carried out in the Villa for more than a decade to rescue everything related to popular and Canarian culture and contribute to its conservation, projection and dissemination. To ensure that the guide reaches as many students as possible, Linares announced that he would contact the Ministry of Education to publicize this "unique resource."