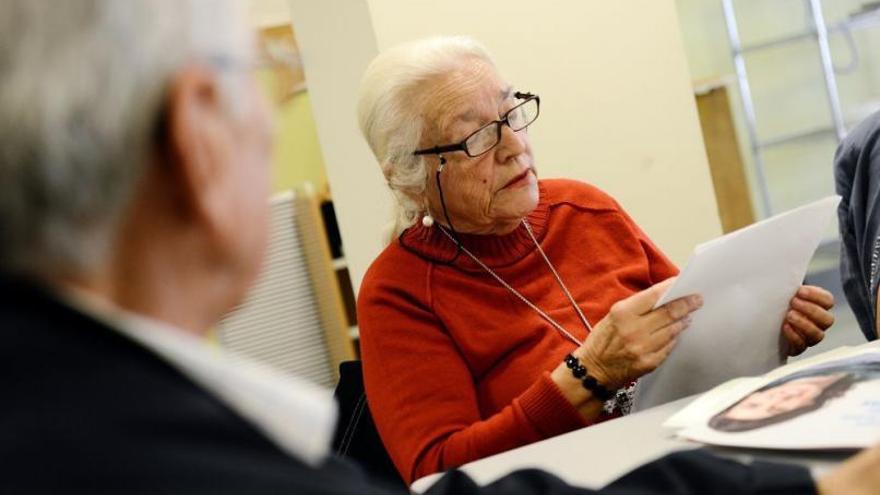 The "new paradigm" that is suggested for geriatric centers or residences raises the importance of not considering users as a homogeneous group, who tend to have pre-set schedules, habits and activities that are the same for everyone in many facilities. The difficulty is that with the current infrastructures, material resources and personnel, this approach can be applied.
One of the challenges in caring for the elderly in social health centers is applying the "new paradigm", which consists of care focused on each user, taking into account their priorities, tastes, life path and individual needs. This is how Víctor Limia, director of the Hospital Febles Campos, in Santa Cruz de Tenerife, and member of the Canary Islands Society of Geriatrics and Gerontology. For Limia, this is the trend, since until now in the vast majority of resources they are identified as "a collective", unique and homogeneous, and all are offered the same type of services. In Limia's opinion, institutions and centers "have to adapt to this new model and rethink our way of working, to do everything possible to give quality of life and dignity" to people. Carrying out such an approach also requires that staff from various disciplines receive adequate information and training. That was an objective of the XXXIII Congress of the Canary Islands Society of Geriatrics and Gerontology, which was held in Santa Cruz de Tenerife last month.
Lourdes Bermejo, a graduate in Gerontology and an influencer on the subject, believes that applying this approach "requires different aspects or areas of improvement." Some of them imply an initial investment or a higher cost of services, she clarifies. For example, the improvement of a physical environment may imply some small reform to enable more spaces in which people are comfortable. For Bermejo, "large rooms, which always imply a great concentration", a perception of "overcrowding" and "do not facilitate the humanization and control of people" should be avoided. On the other hand, "there are environmental aspects that will favor more homely and less institutionalizing environments. Bermejo refers to aspects such as decoration, lighting or furniture, "which do not necessarily imply a high economic cost if the participation of people or their families is encouraged".
Reorganization
For this influencer, increasing the attention staff is another of the pillars of the "new paradigm" and this will imply an increase in costs. However, she believes that it is also possible to teach, motivate and value that the existing workforce works with a predisposition and to favor personalization.
According to Bermejo, "many care organizations have been improving for years thanks to the revision of the forms of organization and day-to-day management, the ways of working and relating to the staff, that is, good practices". To achieve this, he suggests betting on recognizing the "rights of people (to information, decision-making, intimacy, privacy or confidentiality); improve aspects of their psychological or emotional well-being and coexistence; Optimize or create effective channels for participation in residences, as well as for their families.
preferences
According to Víctor Limia, "the mentality and culture of geriatric centers must be changed; and with the same resources, more individualized or personal care can be provided». This concept is very broad. It can go, for example, "from having more personal spaces for each user or seats adapted to their needs, to considering their tastes and diets at meals, or bathing them at the time they prefer." But it also implies "that you interact more with them," says Limia. He admits that, at first, it may seem that it is a complex evolution, "but with a few minimal changes, times and means can be reorganized."
Mikel López also spoke at the Congress of the Canary Islands Society, who recalled the importance of the older people admitted carrying out certain physical exercises to achieve multiple benefits, such as a better physical condition, but also at a cognitive level (knowledge) and quality of life in general.
balance and strength
López is committed to applying "multicomponent physical exercises", in which strength, balance, aerobic capacity or flexibility are worked on, to the extent of the possibilities of each user. "This is the most effective strategy to achieve the above objectives," says Mikel López. In fact, he points out that "the most vulnerable people, those who are hospitalized, respond positively to exercise and often improve their functional capacity, which is altered during their stay in hospital centers." He comments that "more and more hospitals are trying to use this strategy, especially in strength training."
alone in hospitals
Regarding the reality of those citizens of advanced age who are discharged from hospitals and no family member picks them up, Víctor Limia responds that "those people need a residential and care resource". And he does not consider it appropriate for the word "abandonment" to be used by loved ones. From the point of view of the director of the Febles Campos Hospital, "families give up after years of attention and overload, of physical, emotional and economic effort."
Limia is convinced that, when the elderly are left in hospital centers, in general, they already have a history of care in their homes. He estimates that, in these cases, family members experience an "extreme, traumatic and painful" situation, while having "a feeling of guilt" for leaving them in nursing homes.
This member of the Canary Islands Geriatrics Society explains that it is not the same for the elderly to receive 24-hour care, in three eight-hour shifts, by "workers, who are trained professionals, than for that same assistance to be faced by a single person, who does not have such training and who, inevitably, wears out and even abandons his work obligations».
mini residences
Another trend that has been committed to for some time is to build and put into operation "mini-residences" or smaller housing resources, where users can lead a dignified life, actively, without leaving their environment and with other people with disabilities. those who have certain affinities. The new legislation on the matter contemplates this. There are already some projects in this line, clarifies Limia, "and the councils and town halls have a lot to say to promote them." In the opinion of the director of Febles Campos, "public administrations are getting involved in this area and in recent years there has been quite significant progress." He recalls that, in various matters, these institutions "have incorporated social rights and improvements in care." And also the users themselves provide their opinions and suggestions on how they want their attention to be.