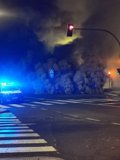 SANTA CRUZ DE TENERIFE, Dec. 22 (EUROPA PRESS) –
The Local Police of Santa Cruz de Tenerife has reported a significant emission of smoke in the area of ​​La Gallega whose origin is yet to be determined, so residents are recommended to close doors and windows in the face of the smoke that this incident is generating.
The incident began shortly before 9:30 p.m. on Avenida de Los Majuelos, at the height of the so-called Manocar roundabout. All the security and emergency services of the Santa Cruz City Council, plus the municipal services, are working to mitigate the effects.
Multiple services of the Tenerife Fire Consortium and Local Police officers are working in the area to try to control the risks and effects on citizens due to this incident. Local Police patrols are informing the neighbors to avoid possible risks.
The Local Police device has proceeded to block traffic on Avenida de Los Majuelos at the crossroads towards the El Sobradillo highway to facilitate the work of the emergency services. Traffic diversions are made in the area.