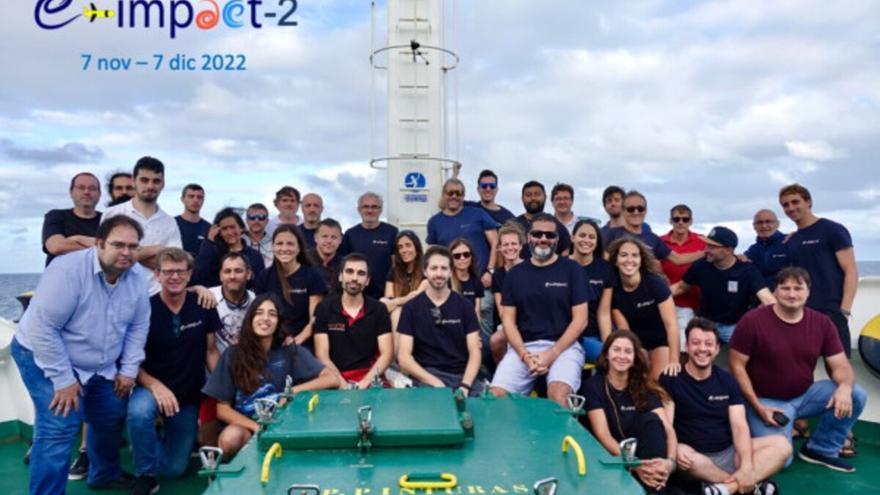 researchers of the University of Las Palmas de Gran Canaria have coordinated a study that has focused on tracking an anticyclonic eddy generated south of Gran Canaria and christened 'Bentayga'which grew to a size greater than the islands of Tenerife Y Gran Canaria together.
As reported by the ULPGC this Monday in a statement, the work was carried out during the month of November and December together with researchers from the Higher Council for Scientific Research (CSIC), the collaboration of the Oceanic Platform for Canary Islands (PLOCAN) and international groups from France, Austria, Germany and the United States.
This is the second oceanographic campaign of the e-IMPACT project of the National R+D+i Plan, coordinated by the University of the palms de Gran Canaria (ULPGC), whose main objective is to quantify the relevance of the eddies of the Canary Islands in the context of the biological carbon pump and climate change in the subtropical ocean.
In the campaign, carried out aboard the oceanographic vessel 'Sarmiento de Gamboa'the aforementioned has been studied anticyclonic eddy, with a warm core, which was generated south of Gran Canaria approximately five months ago and during its life cycle it has been interacting with other eddies and with the coastal waters of the African outcrop, modifying their properties, and growing to a size larger than the islands of Tenerife and Gran Canaria combined.
Researchers have followed the eddy through satellite imagery and Copernicus models from its origin to its current state.
In order to understand the physical dynamics and biogeochemical processes associated with the eddy structure, the researchers have designed a very detailed study, at high-resolution spatial and temporal scales, using state-of-the-art technology, such as the use of oceanographic probes, profilers, vehicles submarines and drifting buoys.
One of the relevant discoveries about 'Bentayga' is that it keeps secrets from its recent past inside that it will transfer to the open ocean: it has a core of water with low salinity and oxygen that it incorporated a few months ago when it contacted the margin of the coastal outcrop . In addition, around its periphery, water rich in plankton circulates, which contributes to fixing carbon dioxide and can sink into the deep ocean or feed higher trophic levels, such as fish.