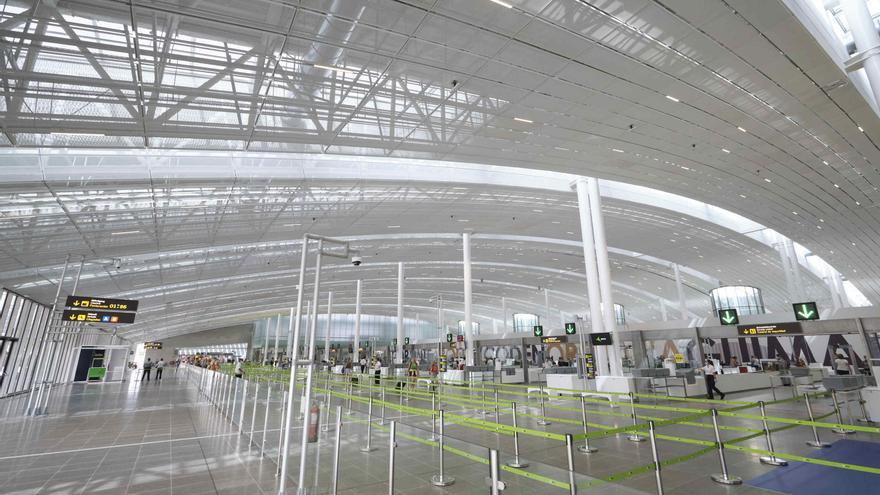 Among the eight companies that participated in the contest called by AENAfive are those who choose to draft the comprehensive remodeling project of the Tenerife South Airport. They have 75 days to present their technical and architectural proposals for the new terminal, resulting from the three in use, the ordering and execution of new car parks and accesses, the revision of the urbanization and landscaping, the adaptation of the baggage reclaim hall , the expansion of the billing and boarding areas and the incorporation of more commercial services.
The selected companies are the five that obtained the highest score for their experience in similar projects, both at the corporate level and for the technicians responsible for the project: UTE Cemosa-Fairbanks Arquitectos SLP, UTE Prointec SA-EFEBearquitectura SLP, UTE Sener ING and Sistemas SA-META Enginering SA , WSP Spain-APIA SA and UTE SEG SL (SOND EST Y GEO)-ONE Works SPA.
All of them participated in the tender, for 5.7 million and a 26-month term, for technical assistance in drafting the project that will define the actions to be carried out to completely remodel the terminal area of ​​the Tenerife South Airport. They also applied to the tender for technical assistance from Architecture for the comprehensive remodeling of the terminal area, for 600,000 euros and a 57-month term, which includes architectural advice to the construction management during the execution of the works. All this, as approved by the Board of Directors of AENA, for a global investment of 6.3 million euros.
The selected companies are the five that obtained the highest score for their experience in similar projects
The public company that manages Spanish airports announced yesterday that it plans to tender additional technical assistance actions for the baggage handling system and aircraft, for 1.7 million euros, which will be matched with the drafting file of the project, to achieve coordination in its execution and its result.
AENA recalls that this will reach the 8 million euros that for technical assistance for the global project advanced to the Cabildo de Tenerife and economic and social agents of the Island in the meeting held on May 25 on the occasion of the inauguration of the Link Terminal and present the remodeled Terminal 2, work completed in 2008 and put into service on May 26.
€300 million
The announcement made yesterday by AENA is an important advance in a ambitious plan that will involve an initial investment of more than 300 million euros, as announced by the Minister of Transport and Mobility, Raquel Sánchez, seven months ago at the Tenerife South Airport itself. An amount that can be revised depending on the design presented by the company that finally wins the international competition called for its drafting.
The works derived from this international tender will begin in 2027, within the framework of AENA's next five-year investment plan, the Airport Regulation Document (DORA III) 2027-2031. During the first DORA (2017-2022), the investment in the Reina Sofía amounted to 159.4 million euros