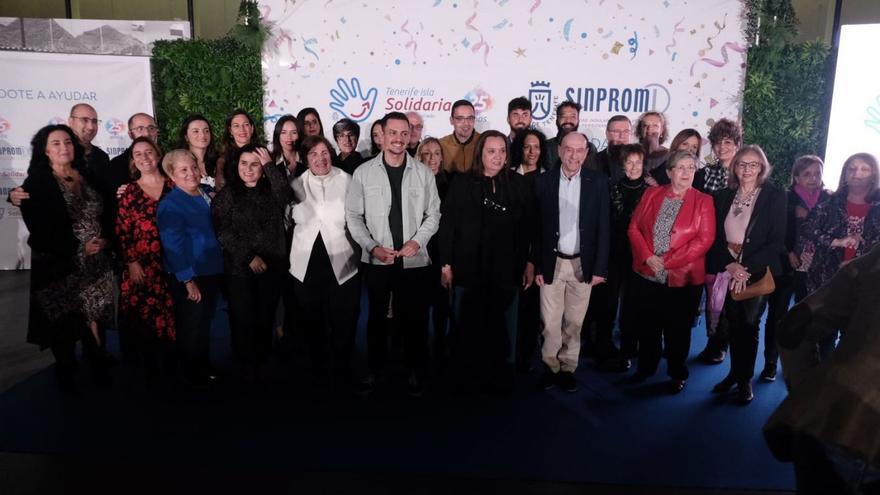 Tenerife Espacio de las Artes (TEA) hosts the island's volunteer gala. A meeting that rewards the individual or collective work of people and entities that have more than demonstrated that they go out of their way for others, especially with the vulnerable . It is their day and for this reason a manifesto is read and, in addition, the insular citizen awareness campaign #Atiquetemueve is launched.
The council highlights the work of individuals and solidarity entities on the Island through a meeting held at TEA (Tenerife Espacio de las Artes), on the occasion of the International Volunteer Day. The CEO of Citizen Participation and Diversity, Nauzet Gugliotta, highlights "commitment, dedication and collective and individual work". He points out that "his example of his I am sure will encourage more people to join and offer their solidarity services."
The emotional act recognizes the work of those who decide, in a free, supportive and disinterested way, to lend a hand and lend their experience, time and effort for the benefit of the community and of individuals and families, especially those who suffer from a situation of vulnerability.
In the meeting, a manifesto with the motto Beyond the crisis is read. It is provided by the Volunteer Platform of Spain, which integrates more than 20,000 organizations. The text vindicates the role and strength of citizenship as engine of change to, in a committed way, contribute to improving the lives of others.
The event was attended by the Island Councilor for Social Action, Marián Franquet; of the aforementioned Gugliotta and the secretary and treasurer of the Federation Platform of Volunteer Entities of Canary IslandsCarlos Campiña, as well as representatives of entities linked to the program Tenerife Solidarity Island.
The awareness campaign #Atiquetemueve is presented with the voice and face of volunteers to make visible their contribution to society and their motivations with the aim that their testimonies contribute to inspiring other people to carry out voluntary services on the Island. For Gugliotta, "it is a day to recognize, thank and value voluntary action in Tenerife society.
The counselor highlights that "we are celebrating a special date, the 25 years of the Tenerife Isla Solidaria program, dependent on Sinpromi, a benchmark for other administrations and whose work serves as an encouragement to join as volunteers. It details that "in this mandate we are committed to social and citizen participation, by increasing the budget of Tenerife Isla Solidaria, with an item of more than 1.2 million euros, the reinforcement of its personnel and new lines of work, such as the service attention to migrants".
The Platform Federation of Volunteer Entities of the Canary Islands (Fpevc) received in this framework a distinction for its 25 years of experience together with Tenerife Isla Solidaria. "A well-deserved recognition of their work, commitment and dedication in the promotion and awareness of volunteering", concludes the Minister of Diversity, Nauzet Gugliotta.