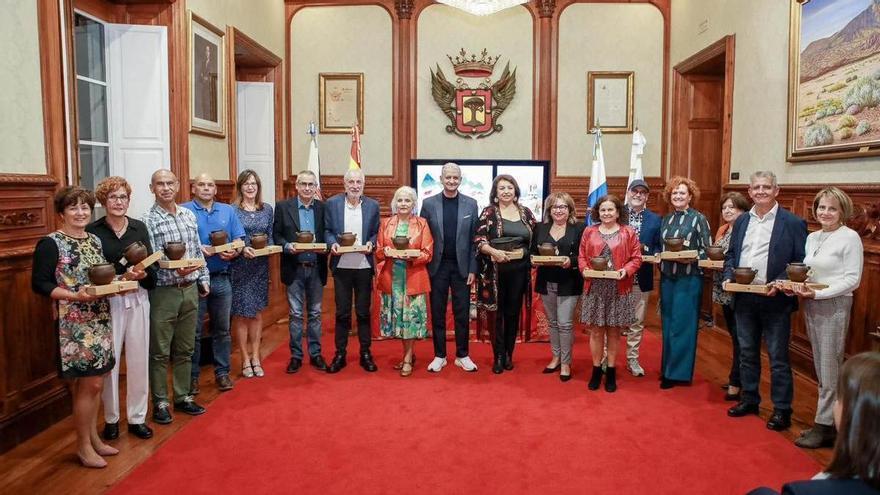 The Noble Hall of Town Hall of La Orotava hosted on the evening of this Thursday, December 1, the act of homage to the 16 teachers who are retiring this year and who have taught classes in schools or institutes of the northern municipality. The event, which began to be organized ten years ago, is held on these dates on the occasion of the Teacher's Day. in this decade more than a hundred teachers have already been honored.
The act was chaired by the mayor of La Orotava, Francisco LinaresY Mercedes Vargas Barrera, former director of the Colegio de La Concepción and godmother of this ceremony. Other members of the municipal corporation, friends and relatives of the honorees were also present at the event.
The honorees this year 2022 are Santiago Pedro Hernández Delgado and Elisa Sagaseta from Llurdos Lópezfrom the Infanta Elena Center for Early Childhood and Primary Education (CEIP); Maria del Rosario Gutierrez and Maria Luz Guzman Acostafrom CEIP Ramón y Cajal; Jose Luis Gonzalez Luisfrom CEIP Víctor Rodríguez Jiménez; María Soledad García Pérez, María Eloísa Martín Lucas and Hilario de la Cruz Jacinto del Castillofrom the school of La Luz; Antonio Correa Perezfrom the Inocencio Sosa Hernández center; Pilar Redondo Rojas, Enilda Montesdeoca Ojeda and Máximo González Jorgefrom the Rafael Arozarena Secondary Education Institute (IES), and Ana María Gil Díaz, María de los Ángeles Grillo Barroso, Celso González Díaz and Carmen Rosa Estévez Ravelofrom IES Villalba Hervás.
Teachers received as a gift a carving made by a local artisan with canarian clay