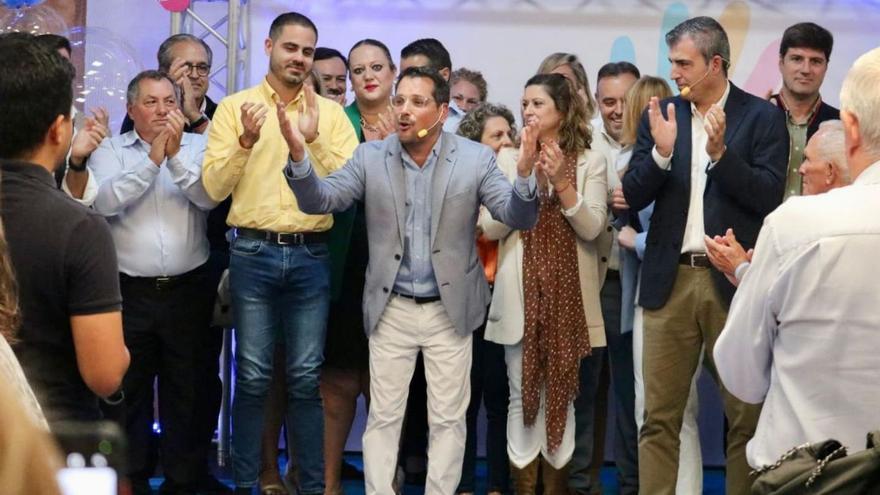 Adolfo González, current councilor, is proclaimed candidate of the Popular Party for Mayor of Los Realejos for the municipal elections of May 2023. The massive confirmation of González has the presence of the president of the PP in Canary Islands, Manuel Dominguez. This, who held the position before making the leap to the politics regional, states that they place all their trust in "the best project for the municipality".
The candidate is also covered by different organic and public positions of the Popular Party, such as the insular president, Emilio Navarro, the candidates for the Cabildo and the Parliament of the Canary IslandsLope Afonso and Rebeca Paniagua, respectively, as well as the deputies and the PP senator for TenerifeAna Zurita, Sebastián Ledesma and Antonio Alarcó.
Hundreds of people crowd the Finca Las Molinas, in the neighborhood of La Perdoma, during the presentation of González on Sunday. Neighbors, affiliates and supporters listen to its general programmatic lines, its objectives and the challenges set for the next four years under the motto #EnBuenasManos. Dominguez states in this forum that "Adolfo is, without a doubt, the best person to continue leading the Los Realejos City Council».
"The work will allow this municipality to be the best in Tenerife to live and invest in"
During his speech, González assures that "the Popular Party in Los Realejos will defend the project that we have developed in the municipality throughout the last mandates." The already official candidate adds that "always thinking of giving an efficient response to the needs of our neighbours". He announces that "this family will grow with new additions" and assures: "We are going to work intensely to integrate new initiatives and ideas with the aim that Los Realejos continues to be the best place in Tenerife to live and invest".
The Popular Party candidate emphasizes that "I am very excited and even more so when I find myself accompanied by a magnificent work team." He appreciates the words of Manuel Dominguez –"an honor"– coming from someone with whom "I have grown politically for 14 years". He also values ​​the support of Lope Afonso, "a magnificent candidate for the Cabildo" and colleagues from all over the island. They and the neighbors give me strength to keep going. He highlights "the value of experience and detailed knowledge of the municipality. We have the recipe to grow." He concludes: «I have all the ingredients for this to continue being a municipality to which people feel happy and proud to belong. Adolfo González presents himself with the utmost enthusiasm. Los Realejos deserves the best and the best is yet to come."
The facebook of the popular realejos expresses a message of satisfaction and gratitude after the act: «From the family of the Popular Party of Los Realejos we want to thank the team of people who made it possible, each and every one of the attendees, and also to those who could not accompany us for one reason or another.